Operators Are Helping Low-Income Residents Go Carless
February 17, 2023
London-based bike and scooter share companies are offering discounted and free rides as part of a larger scheme to help folks scrap old cars in favor of more sustainable transportation.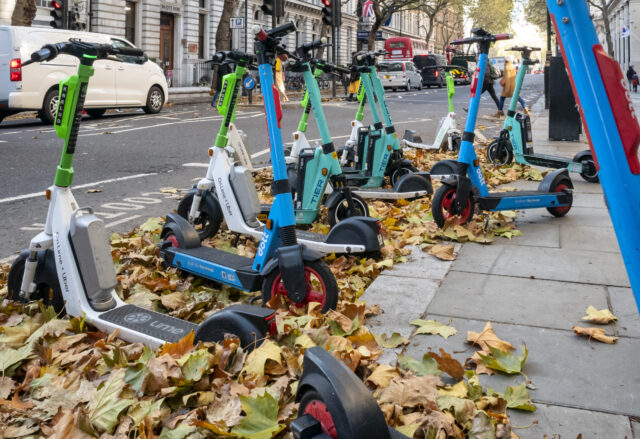 We're fans of any program that allows residents to trade in old cars in favor of transit and bike share passes or a heavily-subsidized e-bike. In 2021, Vancouver announced a partnership between its transit authority, TransitLink, and the not-for-profit SCRAP-IT. For every fossil-fuel car scrapped, residents receive a public transit pass worth about $600. While the program, which is still going strong, doesn't include bike share (since it's not yet integrated with transit), California's Clean Cars 4 All program does. Like the Canadian program, it offers incentives for low-income residents to trade in older, more polluting vehicles, including e-bikes and bike share memberships.
Recently, London announced its own "scrappage scheme" to encourage residents to ditch their old vehicles in favor of more sustainable transportation options. To help with the effort, four shared micromobility operators — Dott, Lime, Tier, and HumanForest — are offering discounted and free rides. Operated by Transport for London (TfL), the new scrappage program is meant to help low-income Londoners, as well as those receiving disability benefits, get rid of polluting cars, motorcycles, and wheelchair-accessible vehicles in preparation for the expansion of the city's Ultra Low Emission Zone (ULEZ) standards.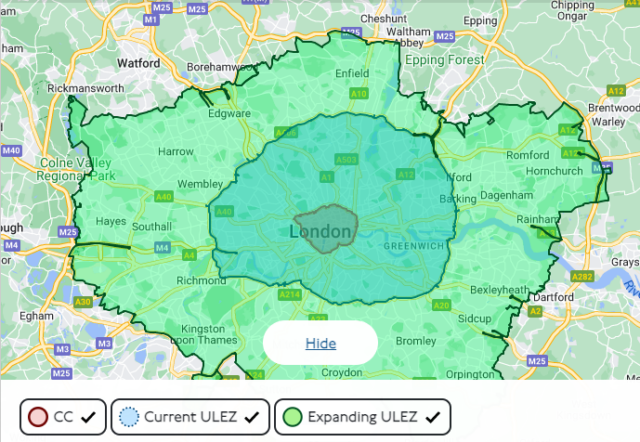 Currently, the ULEZ covers all areas within London's North and South Circular Roads but come August 29, 2023, it will expand to include all London boroughs. Envisioned as a way to help clear London's air and stymie greenhouse gas emissions, the zone designations make it so that cars that don't meet the ultra-low emissions standards have to pay £12.50 daily charge to drive inside the zone (about $15). Exceptions are made for certain vehicles (think buses and delivery vans) but as a result of the expansion, TfL estimates that 20,000 to 40,000 vehicles will be taken off the road.
Without question, low-income residents who can't afford to upgrade their cars will bare an unfair financial burden under the ULEZ expansion, which operates 24 hours a day, 7 days a week, every day of the year except for Christmas Day. Knowing this, London's mayor launched the $131 million scrappage scheme to provide grants for qualifying applicants to scrap or retrofit their vehicles that do not meet the ULEZ emissions standards and switch to cleaner, greener modes of transport. Eligible applicants must receive one or more of 17 means-tested benefits.
The micromobility benefits will be in addition to the grant funding provided by TfL (up to almost $2,400 and less if they opt to include two annual bus/tram travel passes). They are as follows:
"We know that for some people, micromobility could provide a sustainable alternative to needing to own their own car at all," Jessica Hall, head of public policy U.K. at Tier told Smart Cities World. "To that end, we are offering ULEZ Scrappage Scheme users discounted and free access to our fleet of shared e-scooters and e-bikes."
It remains to be seen whether or not the current grants and shared micromobility benefits will serve all low-income individuals affected by the ULEZ expansion. Regardless, the combined programming is a great example of how a city can take drastic action to reduce greenhouse gas emissions while centering the underserved communities that bear the largest financial burden.
---
The Better Bike Share Partnership is funded by The JPB Foundation as a collaboration between the City of Philadelphia, the National Association of City Transportation Officials (NACTO), and the PeopleForBikes Foundation to build equitable and replicable bike share systems. Follow us on LinkedIn, Facebook, Twitter, and Instagram or sign up for our weekly newsletter. Got a question or a story idea? Email kiran@peopleforbikes.org.