COVID-19 Webinars to Watch: Shaping Conversations Around A Pandemic
April 30, 2020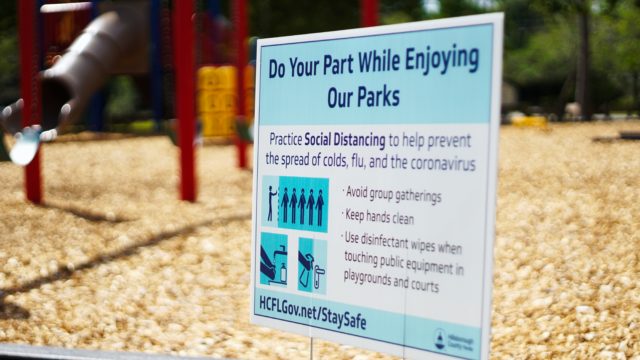 Photo by Jordan Hopkins on Unsplash
In-person gatherings of more than 10 people at a time may not have been permitted this past month, but that isn't stopping mobility justice practitioners and shared micromobility operators and advocates from coming together through webinars.
The informative and enlightening discussions taking place create a space to share solutions and brainstorm the best ways to serve communities across the country during an unprecedented time. 
Below, we've recapped some important points from two webinars BBSP was able to attend, along with some recommendations for others you may enjoy. We implore you to join these conversations and facilitate some of your own — this pandemic continues to evolve and it's going to take a shared effort to navigate it. 
Shared Micromobility and Pandemic: Navigating Our Response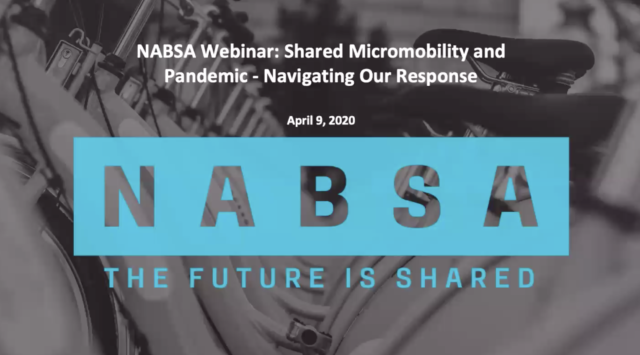 The North American Bike Share Association (NABSA) brought together representatives from bike share organizations for a webinar discussing how they've responded to the COVID-19 pandemic.
Some of their cities have deemed bike share essential — like Houston and Philadelphia — while others have had to support their communities despite facing forced closures. In a one and half-hour-long webinar, these representatives discussed their sanitation measures, employee support strategies, ridership statistics and more. Here's a peek at their COVID-19 responses and insights:
Houston Bikeshare (B-Cycle) – Beth Martin
Closed 12 stations in the most popular parks due to concerns and observations of overcrowding during the stay at home order.

Got a spray approved by the United States Environmental Protection Agency (EPA) to disinfect bikes and stations weekly.

Canceled group rides and events and hired more employees to do more sanitizing.

Despite the pandemic, March accounted for 26,000 bike checkouts — the highest in the company's history.
Bicycle Transit Systems and City of Philadelphia (Indego) – Aaron Ritz and Alison Cohen
BTS:
Heeded cautions by public health officials and took the virus risk seriously immediately by managing costs, communicating proactively internally and externally, and providing consistent service. 

Prioritized employee safety: implemented a two-week paid leave; supported voluntary layoffs to allow employees to be eligible for government funding.

Created a group of 5 (human resources, operations, local general managers) leaders to meet every day to discuss the issues of riders, staff and operations. 
City of Philadelphia:
Coordinated Indego related communication with the Philadelphia Department of Public Health and the Mayor's Press Office

Patterns: Previously ridership use patterns were commute-oriented. Between March 16 and April 7, however, patterns indicate riders were focused on essential services, like pharmacies or grocery stores. 

Rider retention was up 21% compared to 2019 around this time. 
Maurice Henderson – Bird 
Increased frequency of sanitation of scooters and helmets, and provided extra gloves and sanitizers for field workers.

Local Heroes Program: To honor essential workers, people can nominate the community heroes working to keep them safe. Once nominated, Bird recognizes them on their website and social media channels. 

Provided free scooter rides to healthcare and emergency workers in Antwerp, Culver City, Santa Monica and Tel Aviv. Additionally, in Turin, Italy, Bird loaned a small fleet of scooters to help deliver meals to elderly residents. 
Colin Hughes – JUMP 
To increase vehicle sanitation, JUMP's staff was trained in how to sanitize vehicles and how to protect themselves, colleagues and customers.

Began tailoring geofences and deployment plans, specifically around medical campuses and grocery stores.

Free JUMP ride for essential service workers globally: Any employer operating an essential service can contact them and JUMP will provide codes for free rides, starting at 20 30-minute trips. In Washington D.C., volunteers who provide services can also access free JUMP rides.
Caroline Samponaro and Laura Fox – Lyft 
Critical Worker Program – Lyft provided unlimited 30-minutes rides to critical workers in Austin, Denver, the DC metro area, Los Angeles, San Diego,  and Santa Monica. To qualify, employers need to enroll their workers in the program. Lyft said the free service will run through May.

Increased protocols, including sanitization, communications with riders, staff policies, and vehicle handling. For example, some valets are disinfecting bikes each time they enter a valet station while others focus primarily on sanitizing high-rider stations. Additionally, riders receive in-app notifications to wash their hands and share CDC guidance.

Goals of Response: Support city partners and essential workers, and ensure the safety of their community.
The webinar ended with a recap of NABSA's response to COVID-19 and a Q&A.
Watch the full recording here. 
COVID-19 and Community Resilience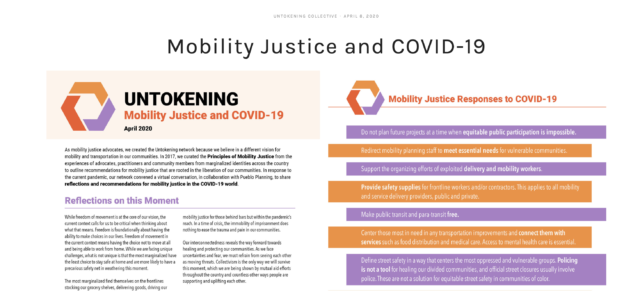 On March 27, Monique G. López of Pueblo Planning and The Untokening's Dr. Adonia Lugo convened a virtual conversation to discuss the current pandemic. With more than 100 people in attendance, the two-hour webinar was broken up into three sections and explored these questions:
What is the role of mobility justice practitioners and how can they work together to co-develop community resilience?

What can they do to disrupt the overburdening of marginalized communities through this pandemic?

How do they subvert disaster capitalism with disaster collectivism?

What strategies can shift resources while supporting the safety of front-line workers?
The collective conversation candidly talked through personal experiences as well as the layered responses to COVID-19 by city transportation agencies and officials, specifically highlighting how transit workers and essential workers — significantly people of color and residents of low-income communities — are being overburdened. 
Here are some of the final recommendations for mobility justice responses to COVID-19:
Stop police harassment of delivery workers doing vital work — and ticketing people surviving by living in vehicles or on the street.

Do not plan future projects at a time when equitable public transportation is impossible. 

Define street safety in a way that centers the most oppressed and vulnerable groups. Policing is not a tool for healing our divided communities, and official street closures involve the police. These are not a solution for equitable street safety in communities of color. 
Watch the full recording here.
To build on these reflections and recommendations, Pueblo Planning and The Untokening recently announced they'll continue to hold this space through an online series beginning in May! 
They plan to "continue to share ideas, uplift community-based narratives and strategies, and create a healing space for BIPOC community leaders, advocates and practitioners engaged in mobility justice." 
The first talk in the series takes place on May 1, and the others on May 15, May 29, June 12, and June 26. 
Others You May Enjoy
National Association of City Transportation Officials (NACTO)
National Complete Streets Coalition
National Council of Nonprofits
Populus Webinars 
Note: Access requires email signup, but rewatching the recording is free.
The League of American Bicyclists and Bicycle Friendly America 
That's the end of our list!
Have you joined any interesting webinars lately? Are there any you're looking forward to? Let us know! Reach out to us on Facebook, Twitter and Instagram.
The Better Bike Share Partnership is a JPB Foundation-funded collaboration between the City of Philadelphia, the Bicycle Coalition of Greater Philadelphia, the National Association of City Transportation Officials (NACTO) and the PeopleForBikes Foundation to build equitable and replicable bike share systems. Follow us on Facebook, Twitter and Instagram or sign up for our weekly newsletter. Story tip? Write farrah@peopleforbikes.org