BBSP Awards 9 Bike Share Projects $79,600 in Mini Grant Funding
February 27, 2020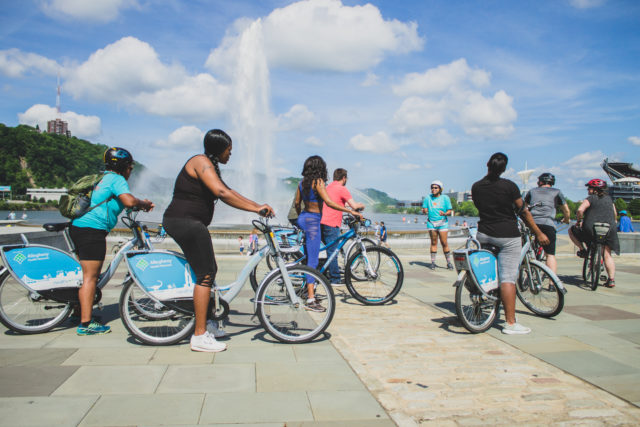 Photo courtesy of Healthy Ride
The Better Bike Share Partnership (BBSP) has awarded $79,600 in small grants to increase access to and use of bike share in low-income neighborhoods and communities of color across the U.S.
We're excited to announce our fifth round of grant funding that PeopleForBikes will administer as part of its partner role in BBSP.
The following projects received mini-grant funding:
Community Art Bike Mobile Display & Recognition: Celebrating Community through Mobile Art: $10,000
Heartland Bike Share, Omaha, NE
Two arts non-profits will work with local high school students to design and paint up to 20 Heartland Bcycle bikes. The rides, featuring custom artwork, will be available to rent and featured in community festivals and events.
Connecting Fitzgerald through Bike Share: $7,200
MoGo Detroit Bike Share, Detroit, MI
MoGo's expansion into the Fitzgerald neighborhood in 2020 will provide bike share options there for the first time. This grant will support outreach and engagement efforts, bike skills classes and pop-up events in the community to encourage more of its residents to get out and ride.
Better Bike Share for an Active Linden: $8,550
City of Columbus OH Health Department, Columbus, OH
Bike share station design contests, custom station wraps and a mobility block party are just a few of the outreach activities this grant will support as CoGo Bike Share expands its system to the Linden neighborhood.
Community Ambassador Revamp: $10,000
Bike Share Pittsburgh, Pittsburgh, PA
The Healthy Ride bike share system will use this grant to enlist community-based organizations as Ambassadors in three focus neighborhoods and support more team-building for the whole outreach crew.
Transit Champ: $6,250
Indianapolis Cultural Trail, Indianapolis, IN
Twenty students from local high schools in the newly-expanded Pacers Bike Share service area will participate in a seven-week program focused on using and navigating transportation options in Indianapolis. This pilot will inform efforts to get more high school students using bike share and transit.
Red Bike Go Community Rides: $10,000
Cincy Bike Share, Cincinnati, OH
Cincy Red Bike will partner with local community-based and social justice organizations to host at least five community bike rides focused on encouraging people of color and low-income residents to experience the joy of bicycling.
GO Pass Ambassador Campaign: $10,000
Houston Bike Share, Houston, TX
Houston BCycle will hire five community ambassadors from the Third Ward neighborhood to provide education and outreach to residents about the new GO Pass––an equity-focused program that provides discounted memberships and hands- on bike share demonstrations.
PikeRide and Springs Rescue Mission Collaboration: $10,000
PikeRide, Colorado Springs, CO
Clients of the Springs Rescue Mission can access free PikeRide bike share memberships, along with helmets and gear, as part of this grant-funded pilot program. With an introduction to the system and group rides, the goal is to provide transportation options to more people that can benefit from it.
Latinx Community Outreach: $7,600
Tulsa Bike Share, Tulsa, OK
This Machine, Tulsa's bike share system, will hire a part-time bilingual outreach coordinator to connect to and engage the city's Latinx residents. Events, promotions and marketing efforts will be the focus of this new position, which the organization hopes to make permanent.
<View the full release here>
Congratulations to all of our mini grant recipients! Stay tuned for more news about the development of their projects.
The Better Bike Share Partnership is a JPB Foundation-funded collaboration between the City of Philadelphia, the Bicycle Coalition of Greater Philadelphia, the National Association of City Transportation Officials (NACTO) and the PeopleForBikes Foundation to build equitable and replicable bike share systems. Follow us on Facebook, Twitter and Instagram or sign up for our weekly newsletter. Story tip? Write farrah@peopleforbikes.org