Vancouver's Public Bike Share System Puts Equity First
January 29, 2020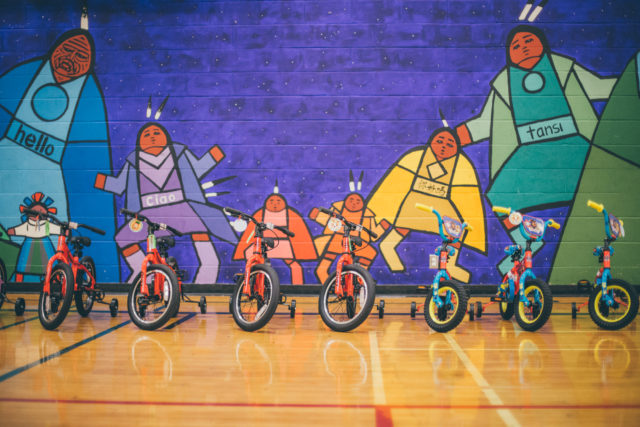 Photo courtesy of Mobi by Shaw Go
Since 2016, Mobi by Shaw Go has provided bike share to the residents and visitors of Vancouver, British Columbia, Canada. It's the City of Vancouver's official bike share program that is owned and operated by Vancouver Bike Share Inc, a subsidiary of Cyclehop LLC.
Mobi is administered by Vancouver and is the only bike share system in the city. 
Today, Mobi's reach has expanded significantly due to the Vancity Community Pass (VCP) equity program it launched in 2018. After exceeding expectations in its pilot year by reaching nearly 63% more people than anticipated, VCP is officially here to stay. 
But how did it all come together? According to VCP Program Coordinator Samantha Drew:
"Prior to the program's start, Mobi by Shaw Go reflected on who was using the bike share and identified that some populations of people were not represented throughout the membership base as much as we hoped. Together with the City of Vancouver, we identified the need for an equity program that could reduce barriers to joining by creating a bike share pass with more flexibility and one-on-one support."
They also examined the credit-only payment options, liability issues, the pass's cost per year — only yearly and day passes were available at the time — and other aspects that highlighted the barriers built into the system. 
To turn this around, the team focused on prioritizing equitable solutions to reach marginalized communities that could substantially benefit from bike share access: subsidizing the membership, introducing cash payment options and reducing the age requirement from 16 to 12.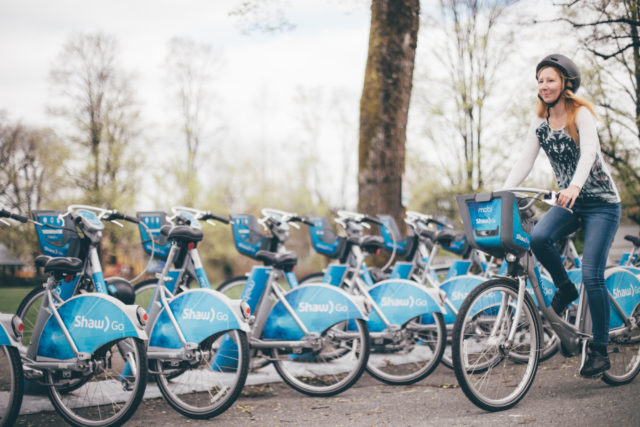 Photo courtesy of Mobi by Shaw Go
Another important aspect of this equitable approach was a deeper focus on outreach, which is a large part of Drew's role. Since Mobi's signup process is mostly online and bike share, in general, is fairly new to Vancouver, Drew regularly connects with the community to help sign up newcomers and navigate the sometimes tricky process. 
Besides wanting to share this program with riders who couldn't access it because of the cost, Drew says it was important for Mobi to hone in on equity.
"It's such an amazing service that can get people around in Vancouver. We have so many bike lanes and bikeways, and we wanted to expand to other areas of the city in low-income neighborhoods to make sure those living in those neighborhoods would be able to access the program as well. Really, I think we wanted to get more people riding bikes and using sustainable transit."
A Look Into the Program 
Sponsored by Vancity Credit Union and the City of Vancouver, the Vancity Community Pass program intended to reach 300 people, then wound up with 478 signups. 
Drew says one thing that's made the program successful is their many partnerships in the local community. "We had 27 partners during the pilot and now we have 36 partners. I think they ended up accounting for 51% of our signups," she recalls, "so just being able to connect with different organizations in the community that could reach many different people was really helpful for us."
Mobi's nearly 200 stations are placed through Vancouver, including the East side where there's a higher concentration of low-income residents. Additionally, all of Mobi's bikes have helmets on them because of British Columbia's mandatory helmet law.
The equity program's 365-Day Plus Pass includes:
Unlimited daily 60-minute rides

Membership cost of $20 per year

Reduced liability of $200 — compared to $2,000 — for a lost, stolen or damaged bike. Members can also opt for a one-year suspension instead. 

One-on-one support

Cash payment options (which turned out to be the most used payment option during the pilot!)
Like the regular membership, overage fees remain $3 for an extra half hour, though Drew admits to waiving most of them. 
Members have four ways to qualify for the program: the Leisure Access Pass, Red Compass Card, a Greater Vancouver Food Bank Membership, or a third-party referral from a Community Partner. Mostly free and public programs of Vancouver, VCP wanted to make access as easy as possible by catering to people who experience the most barriers. 
Bike safety is another central focus of VCP's. While the program doesn't host classes of its own, VCP partners with Hub Cycling, a local nonprofit in Vancouver, to host bike orientations and run their BIKESAFE program aimed to promote and educate for safe cycling on Mobi bikes.
Hub Cycling also manages the Newcomer Bike Host Program, which pairs local residents with Vancouver newcomers to teach them bike riding and ways to navigate the city. In 2018, the Immigrant Services Society of British Columbia supplied each program graduate with VCP membership passes to encourage continued ridership beyond the program. Additionally, Mobi also provided 90 Day Passes for those participating in the Newcomers program while it was running.
Halfway through the program's first official year, VCP is at almost 700 signups. In 2020, Drew says they're excited to keep expanding the program and build more partners to reach more people and do more outreach.
Moreover, developing VCP's work with youth organization Pathways to Education is also a priority. In 2019, nearly 200 kids signed up for the program. With new funding secured to renew all their memberships, Drew is excited to help more students access bike share to get to and from school and after school activities. 
"We're really proud of this program and we're really happy with the way it has turned out."
Stay tuned for our upcoming blog scanning the equity programs of large shared micromobility companies!
The Better Bike Share Partnership is a JPB Foundation-funded collaboration between the City of Philadelphia, the Bicycle Coalition of Greater Philadelphia, the National Association of City Transportation Officials (NACTO) and the PeopleForBikes Foundation to build equitable and replicable bike share systems. Follow us on Facebook, Twitter and Instagram or sign up for our weekly newsletter. Story tip? Write farrah@peopleforbikes.org