Better Bike Share Partnership Offers a Travel Scholarship
January 28, 2020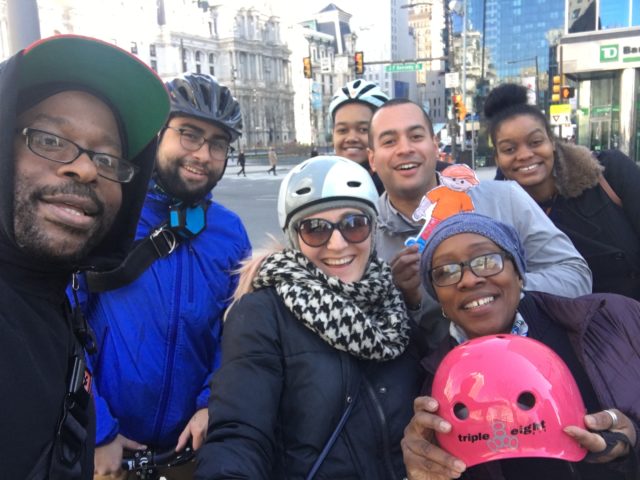 Photo courtesy of Oboi Reed
All too often, financial obstacles play an unfair role in the ways we want to grow and learn. 
If there's a professional event you'd like to attend this year and need some support, the Better Bike Share Partnership (BBSP) might be able to help. In 2018, for example, we provided funding for travel to the Walk Bike Places conference in New Orleans. Here's what MoGo Detroit's Lisa Nuszkowski had to say about her experience:
"I organized and presented at a panel discussion about determining the appropriate type of bike share for your community at the 2018 Walk, Bike, Places conference in New Orleans. With support from BBSP, we were able to share approaches to equity relating to dockless, station-based and hybrid bike share systems, and encourage other communities to build equity goals into their shared mobility strategies."
Where can we help you go this year?
BBSP is using limited funding to support travel to conferences, meetings, or other events that will help us share information about the strategies, lessons learned and best practices of our partners and grantees, and provide professional development opportunities for partners and grantees.
Eligibility 
In order to be eligible, you must be an employee, contract worker or consultant of a Better Bike Share partner or of an organization funded by a grant from the BBSP. 
However, an eligible applicant may invite a person outside these organizations to apply for the scholarship on a case-by-case basis.
Funding
Typically, our scholarships are $500, though we may consider awarding a different amount on a case-by-case basis.
Eligible applicants invited to speak, present, or participate in a panel or other activity at a conference, workshop or other events will be prioritized. Applicants traveling for professional development opportunities will have secondary priority. 
Additionally, keep in mind the scholarship will also cover transportation to the event location (airfare, train fare or gas costs), hotel, and event registration only. 
Timelines
If you're interested, please submit an application a minimum of four weeks before the scheduled event. BBSP will review requests on a rolling basis and provide a response within 10 days.
Questions? Contact Zoe Kircos, PeopleForBikes, at zoe@peopleforbikes.org, or reach out to us on Facebook, Twitter and Instagram.
Download the Guidelines and application here.
The Better Bike Share Partnership is a JPB Foundation-funded collaboration between the City of Philadelphia, the Bicycle Coalition of Greater Philadelphia, the National Association of City Transportation Officials (NACTO) and the PeopleForBikes Foundation to build equitable and replicable bike share systems. Follow us on Facebook, Twitter and Instagram or sign up for our weekly newsletter. Story tip? Write farrah@peopleforbikes.org