Cycling for Change — MLK Day of Service 2020
January 22, 2020
"Life's most persistent and urgent question is, 'What are you doing for others?'" – Dr. Martin Luther King, Jr.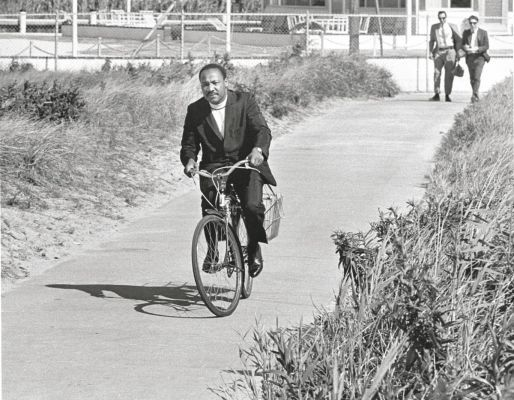 Dr. Martin Luther King Jr. commuting via bicycle at Fire Island in September 1967. Source: Stan Wolfson
Dr. Martin Luther King Jr. fought tirelessly for equality for all Americans and transportation was at the heart of that fight more than once. In 1955, as the president of the Montgomery Improvement Association, Dr. King helped coordinate the Montgomery Bus Boycott after the arrest of Rosa Parks. 
Following this injustice, citizens of Montgomery followed Dr. King in a 381-day protest of racial segregation on public transportation that ended successfully with a ruling by the Supreme Court that deemed segregation on public buses unconstitutional. It also set the tone of the Civil Rights Movement. 
More than 50 years later, his values are still present in and relevant to all the transformational work being done to remove barriers to sustainable transportation.
As we move into Black History Month, a number of cultural and commemorative events will be available to advocate for social justice issues while promoting micromobility, like the Montgomery Bicycle Club's 55th Anniversary Selma to Montgomery Bicycle Ride.
For now, let's take a look at how some cities reflected on Dr. King's life and teachings in 2020.
Philadelphia
The Greater Philadelphia Martin Luther King Day of Service is a massive event that has welcomed more than 140,000 volunteers since its start in 1996. 
Members of Better Bike Share, the Bicycle Coalition of Greater Philadelphia and Bike Transit Philadelphia teamed up for the 25th annual MLK Day of Service again this year, convening at the heartbeat of Philadelphia's communities: the Athletic Recreation Center.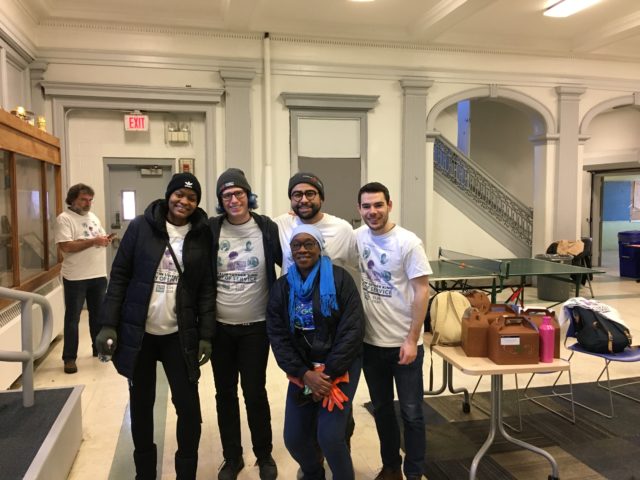 Image courtesy of the Bicycle Coalition of Greater Philadelphia.
A cherished historical site, this community center is known for always having something going on, says BBSP's Stephanie Ridgeway, whether it's hosting an array of fun activities, giving away food or hosting after school programs; the rec center is the center of Philadelphia. 
"Indego has partnered with the rec center on several occasions to host classes and rides, and we're looking forward to assisting with de-cluttering, cleaning, and organizing rooms in this historic building," shared Waffiyyah Murray, BBSP Program Manager, ahead of the event.
Philadelphians had plenty of volunteering options, thanks to this hefty list of community opportunities.
Detroit
Detroit commemorated the legacy of Dr. King with its 8th Annual Martin Luther King, Jr. Memorial Ride. 
The Tour de Troit — Detroit's city's largest cycling event — is a cycling celebration of the esteemed activist where families, community residents and others come together to promote and encourage bicycling and bicycle safety as well as show support for non-motorized infrastructure.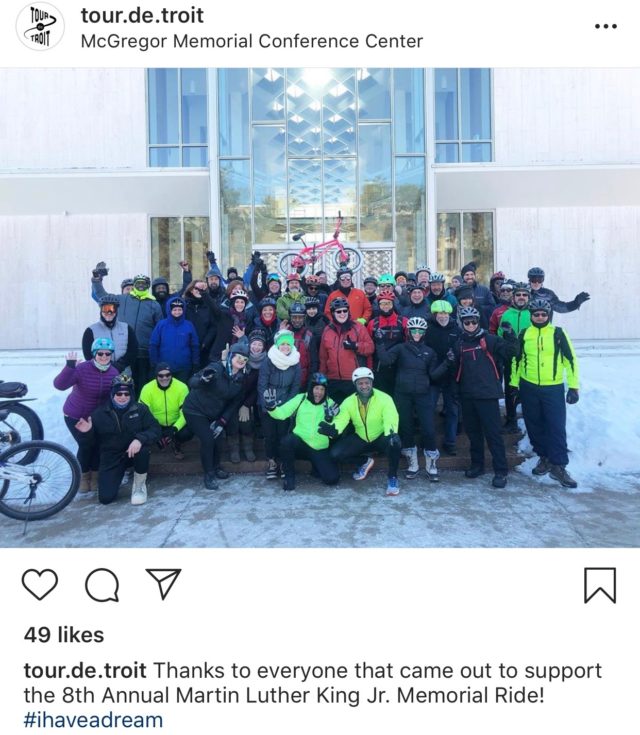 Source: Tour De Troit
Taking off at 10 a.m. on MLK Day, riders pedaled on to raise awareness of biking as a mode of transportation and publicize the growing greenways network in Detroit. 
According to the event page, Tour de Troit also produces and supports other events that foster a healthy lifestyle and city, such as the Rouge-A-thlon, PaczKi Run and Cycle Into Spring.
Some additional MLK Service Day volunteering opportunities were available in Detroit this past weekend, shared by Detroit's MoGo bike share on Instagram. 
New Orleans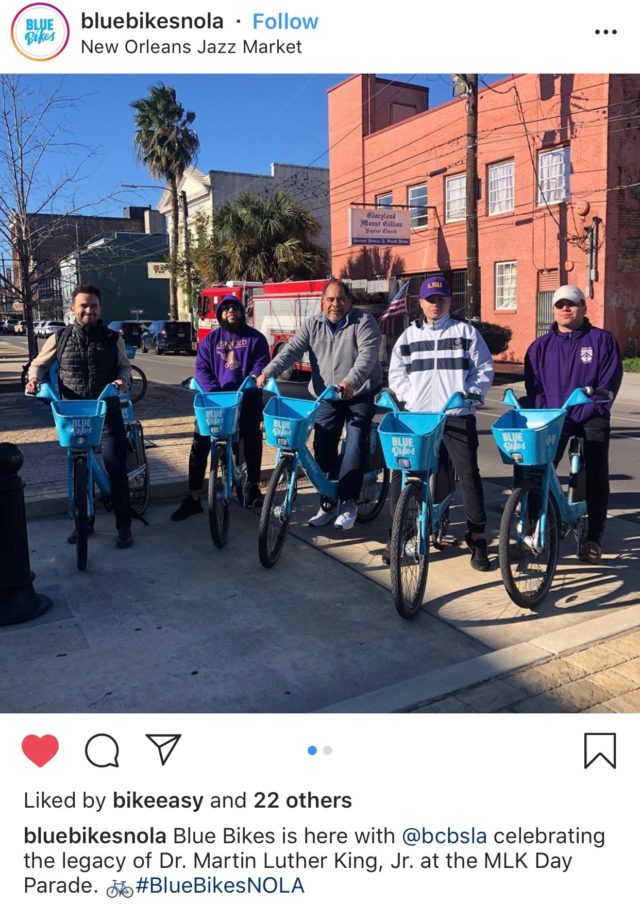 Source: Blue Bikes New Orleans
Former BBSP mini-grant recipient Blue Bikes cycled through the 34th annual New Orleans MLK Day Parade with Blue Cross and Blue Shield of Louisiana this year. 
Prior to the event, Blue Bikes sought out 10 to 15 riders to join the team in celebrating Dr. King's legacy by rolling through the festivities happening between the New Orleans Jazz Market and A.L. Davis Park. 
Bay Area 
Non-profit organization Rich City Rides is a champion for its community, to say the least. This bike shop located in Richmond is on a mission to create a healthier city, which it does by providing free programs focused on promoting cycling as a sustainable and green mode of transportation. 
On MLK Day this year, Rich City Rides threw a Bike Day of Service Shindig, where team members repaired, refurbished and distributed as many bikes as possible for anyone in the community who stopped by.
After meeting up at Unity Park Bike Hub, the event was followed by lunch, then an optional but encouraged ride to the Urban Tilth Farms to meet other volunteers and participate in additional MLK Service Day projects. 
We didn't include everything, but it's evident that communities all across the country rallied for change together, and they used bicycles to do it! 
Tell us what we missed — how else were bike share and micromobility used to celebrate the life of Dr. Martin Luther King Jr. this year? Get in touch with us on Facebook, Twitter or Instagram.
The Better Bike Share Partnership is a JPB Foundation-funded collaboration between the City of Philadelphia, the Bicycle Coalition of Greater Philadelphia, the National Association of City Transportation Officials (NACTO) and the PeopleForBikes Foundation to build equitable and replicable bike share systems. Follow us on Facebook, Twitter and Instagram or sign up for our weekly newsletter. Story tip? Write farrah@peopleforbikes.org