Bike Share Brings the Holiday Cheer for Another Year
December 23, 2019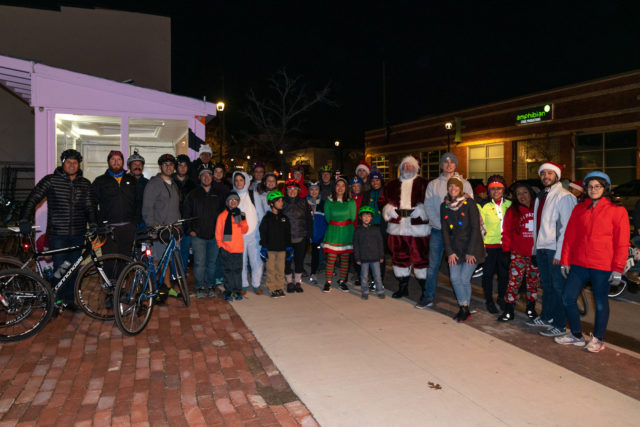 Source: Forth Worth Bikesharing
Winter is a tricky time to seek community engagement with bike share. It's cold, dreary, and many have a hard time braving the cold. Winter riding isn't all bad, though, and there are plenty of ways to bring out the fun, especially during the holiday season. 
All over the country, operators and nonprofit organizations are coming up with innovative ways to get people outdoors and on bikes. 
Here are some examples of how cities are shaking up winter riding with bike share this year:
Community Gatherings
Chicago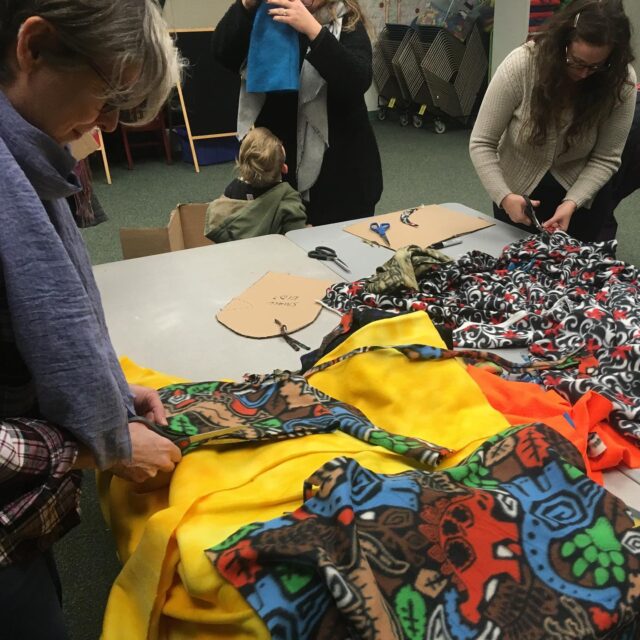 Source: Women Bike Chicago
Women Bike Chicago champions women in its community by working to close the cycling gender gap in their city, in addition to providing a space that educates, encourages and empowers them to enjoy biking. 
This year, the team kicked off the holiday season with a DIY Balaclava & Gaiter family-friendly event that gave encouragement and tips to all riders about how to bike during the winter months.
A free workshop teaching attendees how to create their own traditional fleece balaclava or scarf/gaiter was available, with an emphasis on learning for the purpose of creating more and distributing to other riders throughout the winter.  
Chicago's Divvy Bikes is also still running its #HoliDivvy holiday contest with its new candy cane bikes — this year, they're giving away bike seat covers.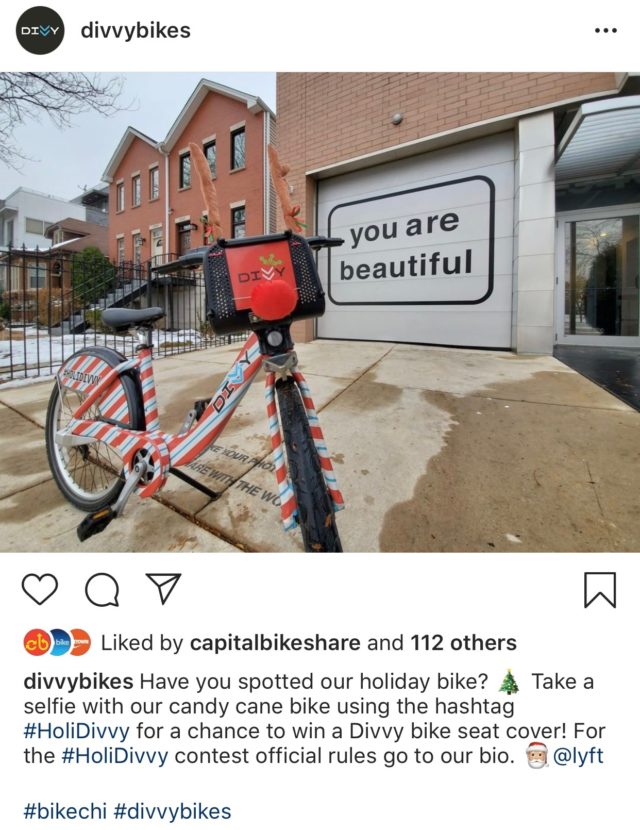 Source: Divvy Bikes
Omaha
In Nebraska, Heartland Bike Share accepted a challenge from Share Omaha that put an interesting twist on Giving Tuesday —  a movement to create an international day of charitable giving on the Tuesday after Thanksgiving. 
Local nonprofit Share Omaha challenged its community to volunteer and become do-gooders for the day, so Heartland Bike Share teamed up with Keep Omaha Beautiful to do just that.
In an effort to inspire Omaha Metro to care for and protect the environment — whether it's by having their own cleanup or using bike share to reduce pollution — team members rode Heartland's bikes to a nearby park to collect trash and wound up cleaning its entire southside.  
432 residents volunteered on December 3, according to Share Omaha. 
Portland
The Community Cycling Center is a non-profit organization that uplifts its community with an annual Holiday Bike Drive. The event benefits families in low-income communities with children ages three to eight who don't have a bicycle, and the bikes are generously donated from other residents and neighboring businesses. 
The bike drive also welcomes residents to sponsor a bicycle for $200 if donating isn't a viable option.
Besides a refurbished bicycle, the children also get new helmets and safety education to keep them protected and informed before they take off. 
Portland's holiday efforts don't stop there.
For the second year, BIKETOWN bike share is introducing a fun way for Portland's community to bring holiday cheer to others. The Pay It Forward initiative allows the bike share account holders to donate enough ride credits to cover the first month of membership for BIKETOWN For All members, its low-income program.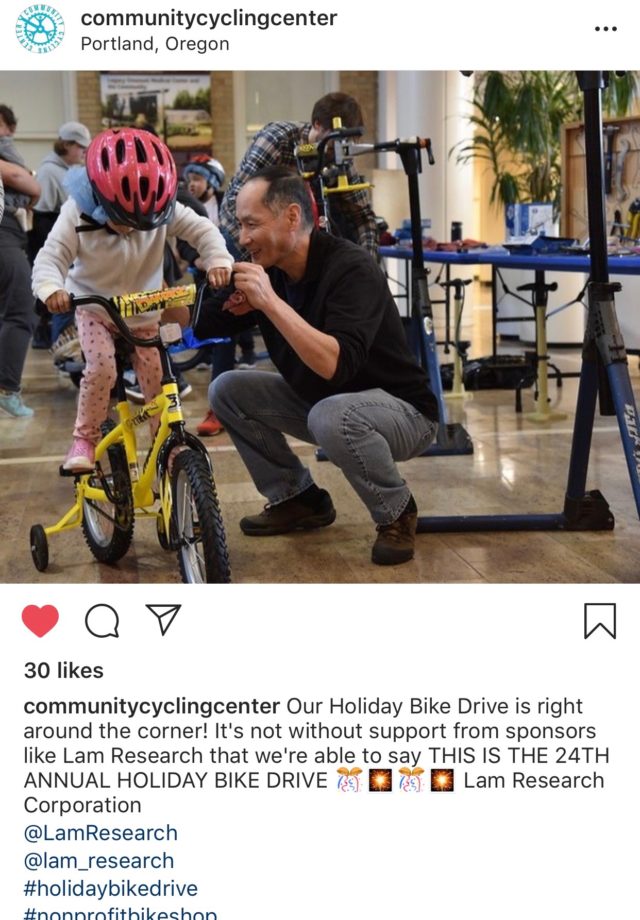 Source: Community Cycling Center
City Light Rides 
Fort Worth
On December 11, Fort Worth Bike Sharing hosted a Tour de Lights event, where community members rode through downtown Fort Worth to see the city's highly anticipated Christmas tree. They even got a send-off from Santa Claus.
Together, everyone ventured through the South Main Village and Fairmount neighborhoods, including a stop at a local ice cream shop for yet another event, Carols and Cocoa. 
About 50 people attended, with more than 30 of them using the system's e-bikes.
Fort Worth Bike Sharing also featured four new 'decked the halls' bikes this year to ramp up its holiday photo contest. Riders who took a picture with one of the bikes and tagged Forth Worth Bikesharing on social media were entered to win six free months of membership.
Ithaca
Like It does every year, Bike Walk Thompkins (BWT) hosted its Solstice Ride! 
On December 21, BWT invites Ithaca's community to brave the cold and participate in the shortest ride on the shortest day. They'll go from Childrens' Garden to a farmer's market, to touring through popular streets, and will end at a local brewery. 
Philadelphia
Philly's Bicycle Coalition hosted its annual Holiday Lights Ride event. As in previous years, Indego offered a limited number of bikes for participants to use for free. And this time around, a local coffee shop generously provided coffee and hot chocolate while attendees decorated themselves and their bicycles with festive holiday garb provided by sponsors.
After gathering at Transport Cycles, a nearby bike shop, everyone toured the city together, then ended the event with a happy hour. 
Social Media Outreach  
Detroit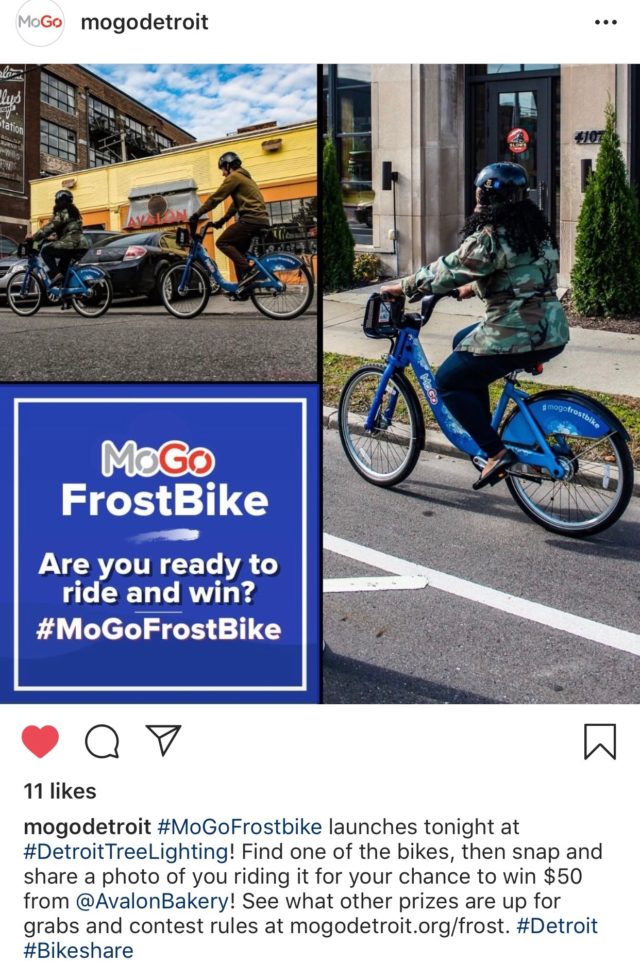 Source: MoGo Detroit
Every year, MoGo Detroit brings in the holiday season with its FrostBike. The winter-themed bikes rolled out on November 22, allowing lucky riders who find them to take and share their experience on social media using the hashtag #MoGoFrostBike. 
To ensure riders have plenty of time to get involved and have a chance at winning, the contest will run until January 3. 
While contests are a great way for operators to give riders the chance to win fun prizes, it's also an influential way to connect with residents and bring communities together in the digital age. 
Toronto
Our northern friends get festive, too! Members of Bike Share Toronto's program got to take part in a Winter Wonderland photo contest, which is one of many fun ways to engage riders during frosty weather. 
The operator released six festive Winter Bikes throughout the city, including a nostalgic toboggan bike, plus rides with holiday patterns like snowmen and sleighs. 
Since November 15, Bike Share Toronto has taken to Instagram to select one winner every Wednesday, or #WinnerWednesday, as it's called. To participate, riders are encouraged to get creative as they take photos with the new fleet additions, especially because the most fun photos get selected. 
Riders who took a chilly ride and submitted their photos got the chance to win gift cards for bike share memberships and other local vendors, tickets to holiday events, Bike Share Toronto gear and more.
Happy Holidays! What are some fun things happening with bike share and the holidays in your neighborhood? Share with us on Facebook, Twitter or Instagram!
The Better Bike Share Partnership is funded by The JPB Foundation as a collaborative between the City of Philadelphia, the Bicycle Coalition of Greater Philadelphia, the National Association of City Transportation Officials (NACTO) and the PeopleForBikes Foundation to build equitable and replicable bike share systems. Follow us on Facebook, Twitter and Instagram or sign up for our weekly newsletter. Story tip? Write farrah@betterbikeshare.org.