Drexel releases research on free-floating bike share and disadvantaged communities
June 25, 2019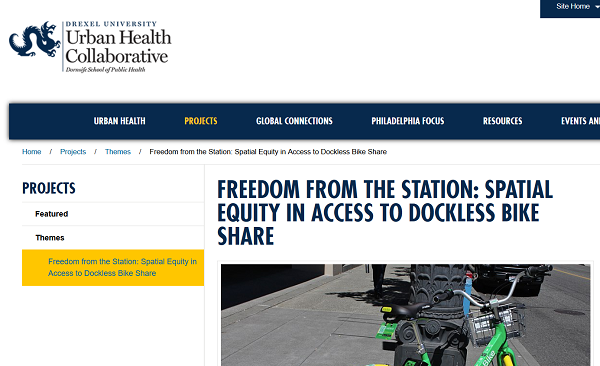 New research from Drexel University's Urban Health Collaborative investigates the benefits and challenges of free-floating bike share in relationship to disadvantaged communities. Research products include a couple of two-pager documents, as well as an infographic sheet.
The studies were led by Principal Investigator Jana Hirsch, PhD, MES, who is an assistant research professor of Epidemiology and Biostatistics at the Urban Health Collaborative. The research was also supported by The JPB Foundation through BBSP.
The research focuses on neighborhoods in Seattle, WA, during the first six months of the city's free-floating bike share pilot program. Findings showed that bikes were more likely to be found in higher-income neighborhoods with more college-educated residents, though at least some bikes were available in each of the 93 neighborhoods surveyed.
Other factors examined include barriers to using free-floating systems, openness to trying the systems, and bike rebalancing techniques.
Excerpt from the research:
"Free-floating bike share programs are novel in the fast-changing small-scale mobility industry, and a timely area for equity research. All neighborhoods were served by bikes and operators moved bikes to high use areas. These results are encouraging for policymakers considering free-floating bike share systems in their communities. Partially driven by data from the initial pilot, for the second permit year, SDOT created a focus around equity and determined areas of the city in which vendors should deploy at least 10% of their fleet."
>Access the full set of documents on Drexel's website.
>Two-pager: Free-floating bike share may improve access to disadvantaged neighborhoods.
>Two-pager: Who is using free-floating bike share and what are the barriers to access?
>Infographic: Spatial equity in access to dockless bike share.
The Better Bike Share Partnership is funded by The JPB Foundation as a collaborative between the City of Philadelphia, the Bicycle Coalition of Greater Philadelphia, the National Association of City Transportation Officials (NACTO) and the PeopleForBikes Foundation to build equitable and replicable bike share systems. Follow us on Facebook, Twitter and Instagram or sign up for our weekly newsletter. Story tip? Write stefani@betterbikeshare.org.