Anacostia streets activated through bike share rides
June 11, 2019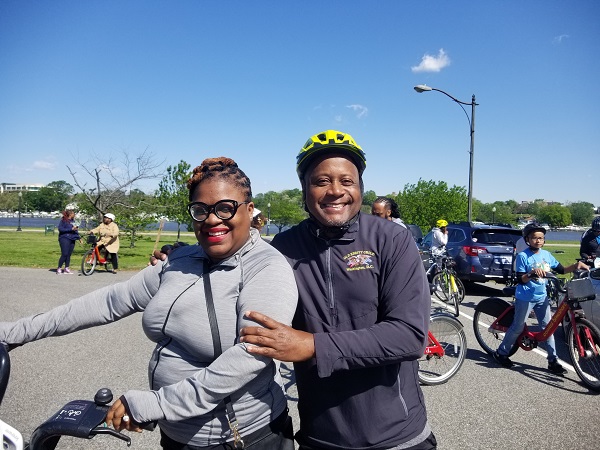 Source: Anna Ray.
Not everyone in D.C. pays attention to Wards 7 and 8 in Anacostia, but one determined community member decided she wants to help liven up the streets with bike share.
Anna Ray used to be the community outreach coordinator for Capital Bikeshare, so she's familiar with how to draw neighborhoods together around bike share events. She works with the organization Empowerment Enterprise II in Anacostia, a nonprofit subsidiary of The Community Church of Washington, D.C.
Ray had been thinking about leading a local bicycling initiative for a while by the time she came across the BBSP mini-grant application. For her, it seemed like a good way to put her ideas into motion. She got 22 participants to come out for the first event, a bike ride and brunch.
"People came out, and they brought grandchildren, siblings, friends, husbands, and wives, said Ray. "The Metro Police Department came with a cruiser to make sure we were good. It felt like we were doing this big thing. The weather was great."
Some people on the ride said they hadn't ridden a bike in years. The route was an opportunity to enjoy Anacostia's Riverfront Trail. Being on an off-road trail was helpful for those who felt less comfortable cycling.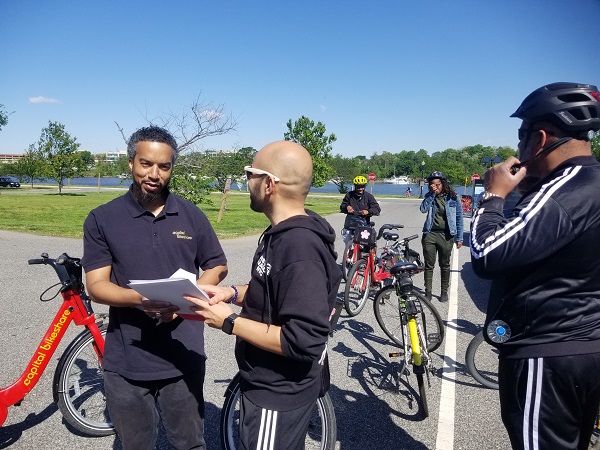 Source: Anna Ray.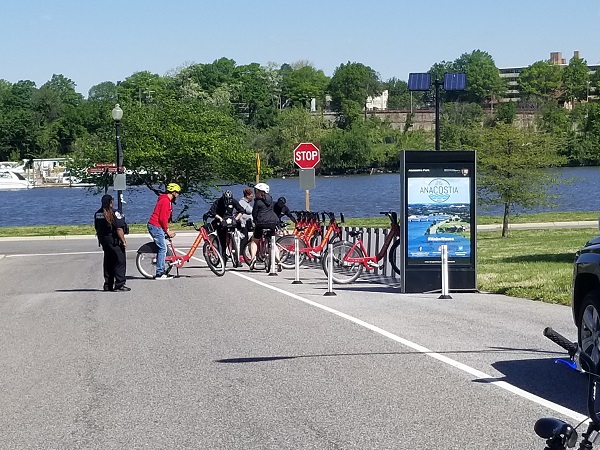 Source: Anna Ray.
A pleasant surprise in planning the ride was the generosity of local partners and the power of good deals. The church put in money to fund the brunch and marketing, and Ray was able to buy helmets for $10 cheaper each than she had been expecting. In addition, Ray said she was supported heavily by the Washington Area Bicyclist Association and by Capital Bikeshare, who shared cycling information and provided access to the bikes.
Because of the reduced event cost, Ray will be able to lead at least one additional ride under the grant. She's hoping to invite sister churches to participate as well. The ability to shift plans quickly was another component of the ride's success.
"A month before the event, the place where we were planning to have brunch closed," said Ray. "A Busboys and Poets location opened in Anacostia, so we were able to have it there." Busboys and Poets has a track record of being committed to social change.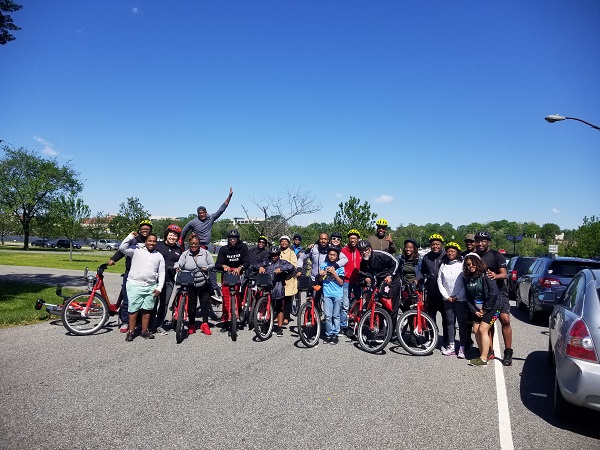 Source: Anna Ray.
She recommends also being flexible about how people RSVP to an event, whether they want to text or have questions about the logistics. And to keep an eye out for help in unexpected places, as she encountered herself.
"In the future," said Ray, "I would love to plan an interdenominational bike to church day, where I could work with different faith groups and religious organizations to do an event. We could go for a short ride and then on to whatever organization or venue that's next."
Stay tuned for more introductions to our 2019 mini-grantees!
The Better Bike Share Partnership is funded by The JPB Foundation as a collaborative between the City of Philadelphia, the Bicycle Coalition of Greater Philadelphia, the National Association of City Transportation Officials (NACTO) and the PeopleForBikes Foundation to build equitable and replicable bike share systems. Follow us on Facebook, Twitter and Instagram or sign up for our weekly newsletter. Story tip? Write stefani@betterbikeshare.org.