Multimodal in Washington D.C. — A day in the life of Kristen Jeffers
June 5, 2019
Today's blog post is a guest article from Kristen Jeffers of The Black Urbanist. She shares a transportation-focused "day in the life" from her home base of Washington, D.C., detailing the challenges of staying out of a car in favor of bikes and transit.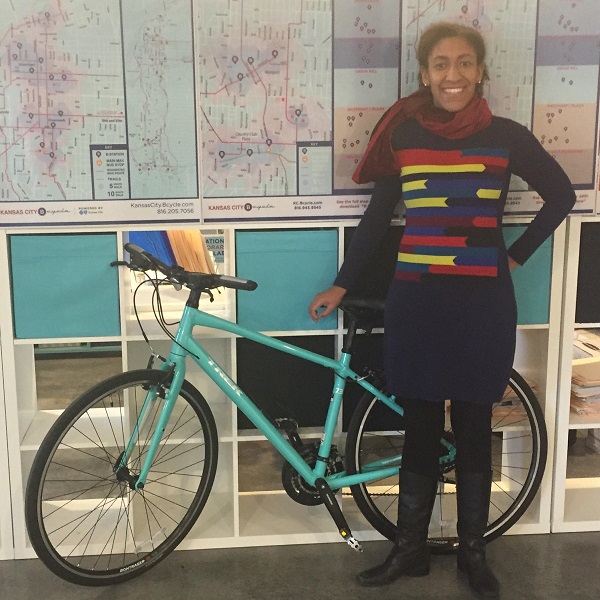 Source: Kristen Jeffers.
It was an unseasonably warm February morning in the Park View neighborhood of Washington, D.C., where I lived at the time. So warm that I had to cut off our already overheating radiator. When I left the window open and returned later that night, I still had warmth in my room.
Normally, with it being as cold as it was, I would spend the day inside, since I work from home. I was only five minutes from a metro stop. I'm able-bodied and I'm pretty handy on a bicycle, either my own or one of the many dockless and docked bike share options outside of that door. Yet, when it's cold all I really want is to bounce down the steps and into a nice warm car. Not a big car, I've always been a compact Honda fan, especially when it comes to something that I have to parallel park at best and lock away in a paid parking deck at worst.
I can already hear my Shoupistas, the "no parking is free" folks, along with those who know our climate is changing, yelling at me for even admitting that I want to drive a car. You'd be even madder at me months later in May, enjoying the fact that I can bond with my girlfriend as we carpool from our shared apartment to her work from in Northern Virginia in Shaniqua Annabelle, our 2016 Honda Fit.
For what it's worth, it's fuel efficient, it can fit two kayaks and both of our bikes, and it gives my girlfriend back about an hour of commuting time. Many days it sits quietly with some of the other neighborhood cars, as I walk over the line from Oxon Hill, Maryland back into D.C. and catch the A9 bus to go down to my newish part-time job giving bicycle and Segway tours on the National Mall. The job allows me to have the time to pursue writing opportunities like this to share my experiences.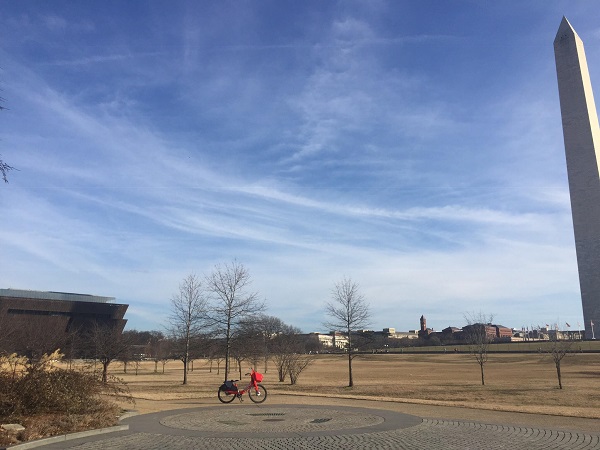 Source: Kristen Jeffers.
But back to that February day at my old house in D.C. At the time, I was excited for a warm day. I wore no kind of coat, but a blue puffy vest, one of my favorite light dresses and snow boots. I was excited to have something to commute to, which on that particular day was a crocheting class at the library across town. I caught up with my then-roommate and we were able to enjoy a bonding moment as we went our various directions on the train. After switching from the green line to the blue line and then walking a few blocks, I was able to bask in a circle of elders, some with roots in North Carolina like myself, engaging in an old craft, that, through me, would last even more generations.
Yet, even though these black women were city women, who lived through the height of the Chocolate City era in D.C.,  they would get back in their cars that morning and worry a bit about me as I walked back to the Metro, alone, in a skirt and boots. I would worry a bit about myself, but I was fortunate that nothing happened that day. I saw a JUMP bike, but told myself I couldn't get where I wanted to go — the Penn Quarter Shake Shack, in enough time. In reality, the route was down streets I didn't know, and I wasn't quite ready for risk taking, even after my courage in getting to the class and back from the Metro.
However, since it was so warm, I decided to take my favorite bike ride on the National Mall. After lunch at that Penn Quarter Shake Shack, a JUMP bike appeared magically (okay, I saw it in the Transit app on my iPhone), and in moments I was in the Pennsylvania Avenue bike lane cruising over to get my favorite vista of the National Museum of African-American History and Culture and the Washington Monument.
I had no idea at the time that one could get paid for such an activity, and when I found out the news just a few weeks later, I jumped at the chance to apply and use my relative comfort on the road on a bike, and my joy at doing exactly what I did that February day, cruising around the National Mall and taking in the beauty of the sites, via a rented bike.
No matter where I've lived, I've always clamored for having multiple options for transportation. As a black queer feminine-presenting woman, there are all kinds of things that run through my head when I walk or bike through public spaces, along with the actual comments I have to beat back from others on the streets.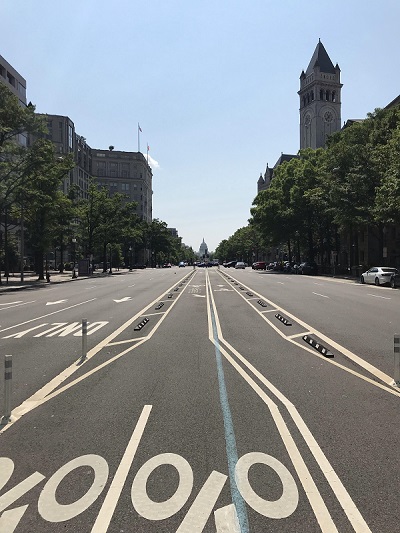 Source: Kristen Jeffers.
I also found that I missed driving the way I did in my late teen and early adulthood years in North Carolina and the Kansas City area. I thought I would be cutting edge and move to D.C., so I could go from driving two days a week to driving no days at all and taking advantage of all the other transportation options.
Yet, we've had some unseasonably wet days here that have resulted in a permanent scratch on my phone case where the Uber and Lyft apps are, not to mention a car payment's worth of money spent on those trips.
I've had bags break at the grocery store around the corner, but still far enough away that the bags would cause great back pain and put me at the mercy of those who would be nice enough to cart my bags home and hopefully not try to use it as a springboard for something else a bit less innocent.
There are often bike share bikes near that grocery, but they never came with the kind of cargo holders I really need to get my items home and safe. Now, I drive across the street to my new store, because I know I can lay my eggs perfectly in my backseat and they won't break.
Seeing that there's only one bus to service those like my partner who cross into Virginia to work but live in Southern Maryland, and looking at way too many lanes for cars that could be a rail line when I drive her across that bridge daily, makes me question what kind of multimodality we are really wanting and for whom.
Yes, the Wilson Bridge has a phenomenal bike and pedestrian trail. However, Capital Bikeshare is almost non-existent on the Maryland side of the bridge and the dockless bikes and scooters are nowhere to be found.
Meanwhile, I drive, I walk, I bus, I bike share, and I Segway at work. One day, I hope that the A9 is an all-day bus, so that my partner can take the car and drive herself across that trainless and bike share-less bridge, but with at least one kayak in tow so she can get in some river time before she meets me at home.
I hope that they put the seats back in the bus stops and that all the bikes hare and scooter share companies feel right at home in Prince George's County, Maryland, much like they do in the other adjacent jurisdictions that make up the Washington, D.C. area.
Until then, please don't give me flack for driving. I can race you on your bike with my personal 2015 Trek Fitness 7.3  across the Wilson Bridge if you want to try and even the score, though.
The Better Bike Share Partnership is funded by The JPB Foundation as a collaborative between the City of Philadelphia, the Bicycle Coalition of Greater Philadelphia, the National Association of City Transportation Officials (NACTO) and the PeopleForBikes Foundation to build equitable and replicable bike share systems. Follow us on Facebook, Twitter and Instagram or sign up for our weekly newsletter. Story tip? Write stefani@betterbikeshare.org.