Traffic safety and crime perception matter for infrastructure decisions
February 28, 2019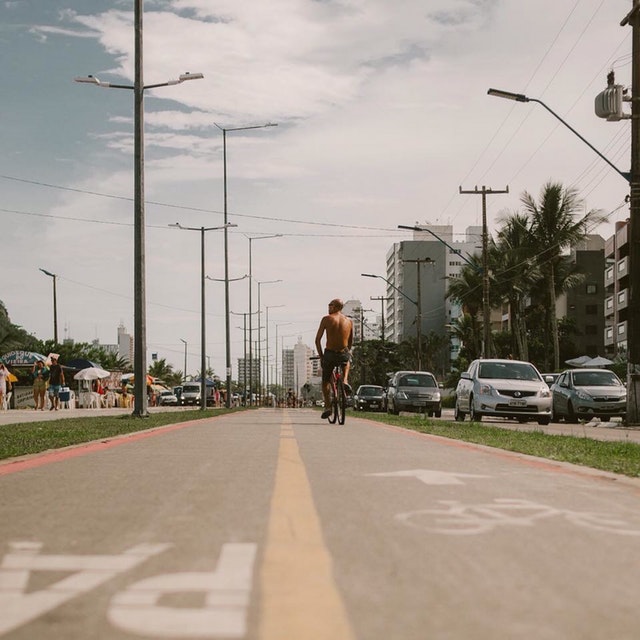 Source: wendel moretti via Pexels.
A new study from Harvard University sheds light on what kinds of cycling environments feel safest to residents — including both perceptions of traffic safety and safety from crime.
The study polled 212 people organized into 16 different discussion groups, and aimed to include a representative sample of individuals from both "civic" and "street" affiliations:
We showed the groups photos of various cycling environments, ranging from unaltered streets to painted sharrows and bike lanes, cycle tracks and shared multi-use paths. Participants ranked the pictures according to the risk of crime or crashes they associated with each option, then discussed their perceptions as a group.
The study is important, because it acknowledges that perception of crime — both personal and to property, such as one's bike — can have a big impact on who feels safe enough to ride a bike in the first place.
From a perspective of avoiding crime, wide two-way cycle tracks were felt to be the safest option by residents. In addition, locals found the conditions surrounding bike lanes to be important to safety, such as flowers, streetlights, and buildings that aren't abandoned.
In terms of traffic safety, the preferred model was protected bike lanes to physically separate riders from cars.
Moving forward, the study leaders say it will take investment on the part of government to find ways to reach a demographic beyond vocal car owners, who often dominate city planning conversations:
Responsibility for recognizing these needs rests primarily with cities. Urban governments rely on public participation processes to help them target investments, and car owners tend to speak loudest because they want to maintain access to wide street lanes and parallel parking. In contrast, carless residents who could benefit from biking may not know to ask for facilities that their neighborhoods have never had.
Taking into account the needs of more residents can help add much needed perspectives to decisions of resource allocation, and go a long way toward rectifying historic trends of disinvestment in certain neighborhoods.
The Better Bike Share Partnership is funded by The JPB Foundation as a collaborative between the City of Philadelphia, the Bicycle Coalition of Greater Philadelphia, the National Association of City Transportation Officials (NACTO) and the PeopleForBikes Foundation to build equitable and replicable bike share systems. Follow us on Facebook, Twitter and Instagram or sign up for our weekly newsletter. Story tip? Write stefani@betterbikeshare.org.