GARE webinar introduces Racial Equity Toolkit
January 30, 2019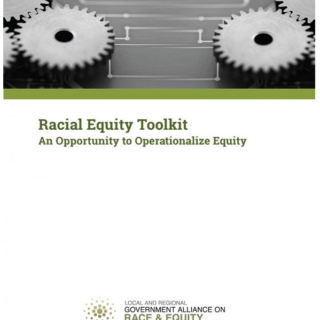 Last week GARE and the Better Bike Share Partnership coordinated on a training to help local organizations and governments develop their community engagement and outreach work.
While the first webinar focused on giving participants an understanding of historical racial inequities, the second webinar introduced GARE's Racial Equity Toolkit. The Toolkit offers a step-by-step process for incorporating racial justice principles and practices into all levels of an initiative.
Rather than developing a planning process and then asking for community input, the Toolkit emphasizes the critical importance of intentional and respectful involvement of all stakeholders from the beginning.
Another important component to integrating equity through the Toolkit is to form a clear statement of desired results at the outset of the initiative, and to seek out concrete data. Identifying the appropriate data sets helps organizations measure the status quo and keep track of progress throughout the project. Above all, communication and transparency are key to a harmonious outcome.
The last webinar in the series will dive further into specific dynamics to navigate while working with the public. Sign up here:
Inside-Outside Organizing and Community Engagement
February 28, 1pm ET /10am PT
90 minutes
>Download GARE's Racial Equity Toolkit here.
The Better Bike Share Partnership is funded by The JPB Foundation as a collaborative between the City of Philadelphia, the Bicycle Coalition of Greater Philadelphia, the National Association of City Transportation Officials (NACTO) and the PeopleForBikes Foundation to build equitable and replicable bike share systems. Follow us on Facebook, Twitter and Instagram or sign up for our weekly newsletter. Story tip? Write stefani@betterbikeshare.org.