Resource: One-pagers provide a look into Indego's cash payment and Access Pass programs
December 18, 2018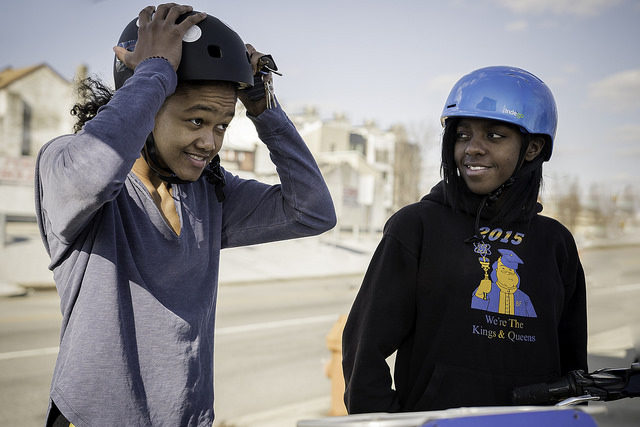 Source: Darren Burton.
Two new one-pagers out from Better Bike Share and the National Association of City Transportation Officials highlight the cash payment and Access Pass discount components of Philadelphia's Indego bike share.
In order to meet the mobility needs of their residents, cities with Shared Active Transportation systems must focus policies and programs to ensure that these transportation systems are accessible by all, regardless of income or banking status. Regardless of technology or operator, introducing or expanding Shared Active Transportation options provides opportunities to develop necessary programming that address financial barriers to use, increase ridership and help meet mobility needs for individuals with lower-income.
In 2015, Philadelphia's Indego launched the nation's first income-based discount program (Access Pass), and cash-acceptance via PayNearMe. The following one-pagers provide an overview of both programs, highlighting key components for addressing disparities in financial access to bike and scooter share. While the development of reduced-pricing and cash-payment alone will not turn the tide in mobility justice, we hope this information can serve as a first step for cities and vendors looking to institutionalize approaches to building more equitable transportation networks.
>Download the cash payment one-pager.
>Download the Access Pass one-pager.
Photo by Darren Burton.
Update 12/18/18: Cash payment download link error fixed.
The Better Bike Share Partnership is funded by The JPB Foundation as a collaborative between the City of Philadelphia, the Bicycle Coalition of Greater Philadelphia, the National Association of City Transportation Officials (NACTO) and the PeopleForBikes Foundation to build equitable and replicable bike share systems. Follow us on Facebook, Twitter and Instagram or sign up for our weekly newsletter. Story tip? Write stefani@betterbikeshare.org.