Moving Forward Together conference materials available
October 12, 2018

This year's Moving Together conference (held jointly by Better Bike Share and the North American Bikeshare Association) might be over, but it's not too late to catch up on resources you may have missed:
>Download presentation materials here.
>Access the complete attendee list here.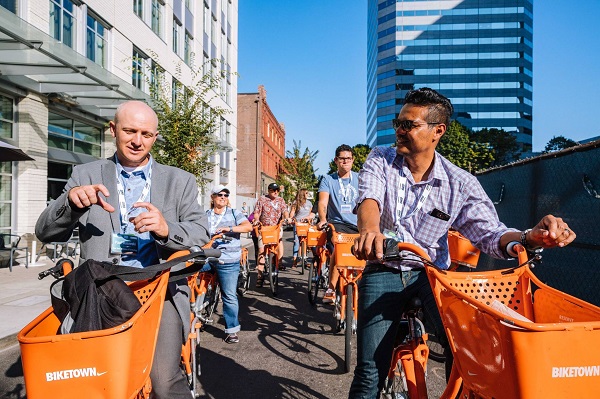 Video resources:
>Watch the conference recap.
>Watch the opening keynote by Keith Benjamin, with introductions by Ryan Rzepecki of JUMP and the City of Portland.
>Plenary panel: The Future of Bikeshare, What We Want and How to Get There.
>Closing keynote by Barb Chamberlain with introduction by Dianna Ward of Charlotte BCycle.
Photos:
>View a collection of photos from the conference.
In addition, please complete the conference follow-up survey if you haven't had a chance to do so yet.
The Better Bike Share Partnership is funded by The JPB Foundation as a collaborative between the City of Philadelphia, the Bicycle Coalition of Greater Philadelphia, the National Association of City Transportation Officials (NACTO) and the PeopleForBikes Foundation to build equitable and replicable bike share systems. Follow us on Facebook, Twitter and Instagram or sign up for our weekly newsletter. Story tip? Write stefani@betterbikeshare.org.