Transportation stakeholders envision a more connected LA…and nation
October 4, 2018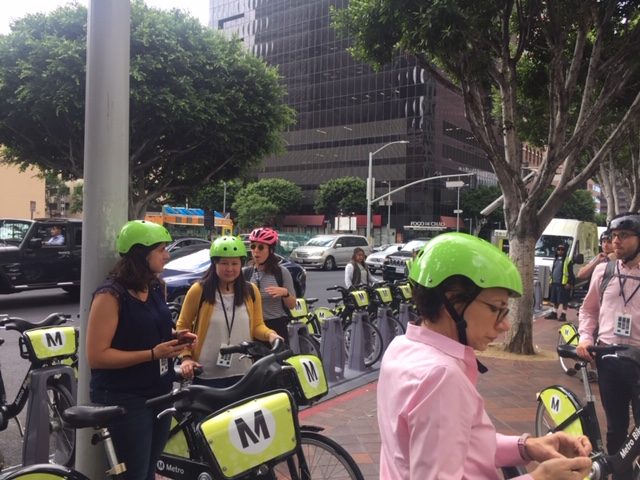 This year's NACTO conference was host to all kinds of conversations on transportation, including bike share and mobility justice.
The 2018 Los Angeles event was attended by nearly 1,000 participants representing more than 150 cities. Those who showed up included transportation staff and officials, nonprofit leaders, and private sector professionals from the U.S. and beyond.
Some panels focused on a particular aspect of transportation, such as a traffic signal management, while others took a cross-platform approach, tackling Vision Zero policies or affordability.
Bike share had a presence in several conversations, and was also used as a means of exploring new street infrastructure first hand during the WalkShops.
The "Bike Share and Transit Integration" mobile workshop showed off the recently-finished protected bike lane running down Figueroa Street between Los Angeles' downtown and the University of Southern California. The tour leaders, from LA Metro, BCycle, and Bicycle Transit Systems, also took the opportunity to highlight the new account integration between bike share and transit systems through the TAP fare card.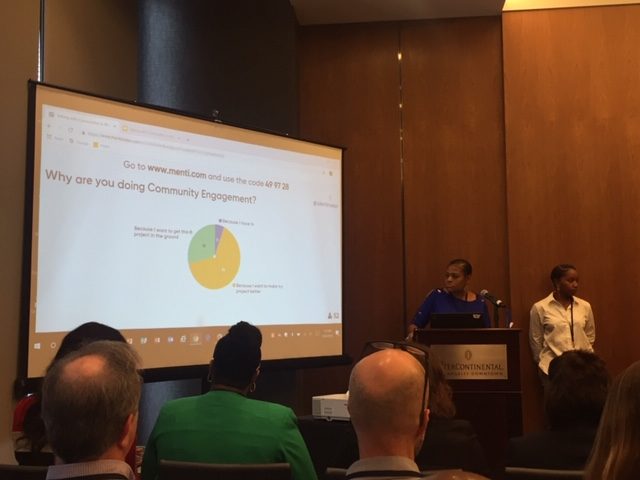 Equity and mobility justice concerns took center stage during panels such as "Talking With Communities in Ways that Count," and "The Best Person for the Job: Recruiting a Diverse Talent Pool." In the first, panelists led an interactive conversation (aided by website polling app Mentimeter) about what it means to take planning's community engagement mandates past simply checking a box. If you're not getting yelled at sometimes and constantly working on your listening skills, then you're not doing it right, seemed to be the consensus.
At the same time, some audience members voiced concern over the lengthy time investment and high cost of a truly comprehensive engagement approach, as well as concerns about overburdening community organizing partners, who often facilitate resident connection. Diverse strategies for outreach were discussed, such as going to grocery stores, schools, and existing community meetings, as well as conducting focus groups and surveys with incentives attached.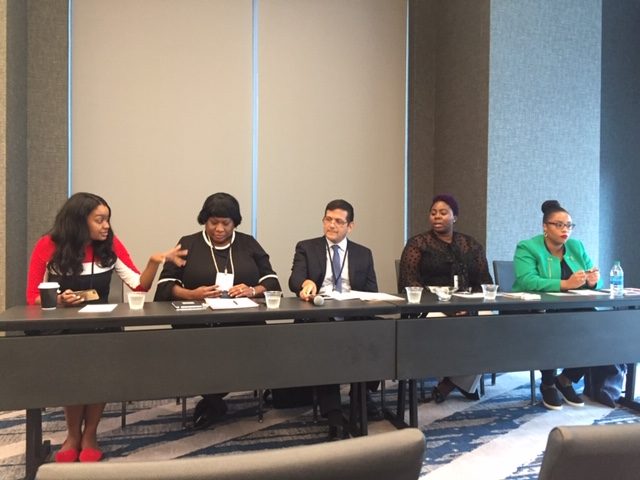 In the hiring panel, speakers from HR to philanthropy talked about various strategies for hiring and retaining underrepresented workers, including reevaluating applicant requirements (Do you really need someone with a master's in planning for the job?) and making sure employees can see clear pathways for advancement, skill development, and mentorship once hired — qualities that are particularly important to millennial staff members.
In sum, NACTO Designing Cities 2018 highlighted changing communities, big visions, and an overall challenge to ditch status quo inertia in favor of better integrating a multitude of voices.
The Better Bike Share Partnership is funded by The JPB Foundation as a collaborative between the City of Philadelphia, the Bicycle Coalition of Greater Philadelphia, the National Association of City Transportation Officials (NACTO) and the PeopleForBikes Foundation to build equitable and replicable bike share systems. Follow us on Facebook, Twitter and Instagram or sign up for our weekly newsletter. Story tip? Write stefani@betterbikeshare.org.