Moving Forward Together: Bringing equity to the forefront of bikeshare
September 13, 2018
This year, the North American Bikeshare Association took a new approach to its annual conference: a joint event with the Better Bike Share Partnership, focusing on including diverse voices on panels and bringing an equity focus to seminars, workshops and keynotes. Even the event name reflected the renewed objective: Moving Forward Together.
The conference took place September 4–7 at the Hilton Portland Downton in Portland, Oregon. The week included an array of panel discussions, workshops and social events, giving an opportunity for attendees to listen, learn, ask questions and engage with experts in mobility justice, communicating for racial equity and representing diversity through content creation and marketing. Government Alliance on Race and Equity (GARE) level I and II trainings were offered during the conference, providing a forum for attendees to workshop their own projects using a racial equity tool.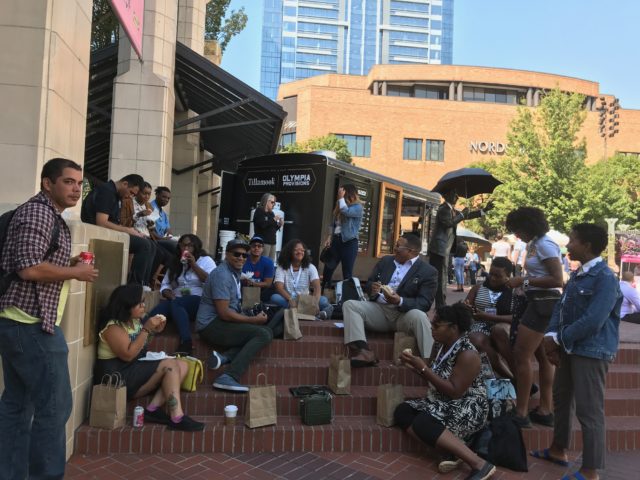 PoC lunch in Pioneer Square.
Conference participants were also invited to tour Portland's bike infrastructure using Biketown, the city's bikeshare program. The tours included a stop at Biketown's adaptive bikeshare location, one of the few of its kind in the U.S.
"The planning committee was very intentional about the decision to make equity a part of every aspect of the conference, rather than segmenting equity-focused sessions into a single day," says Zoe Kircos, director of grants and partnerships at PeopleForBikes. "Like Naja Killebrew [marketing consultant for Indego bikeshare] said, 'equity is the fabric, not the fabric softener.'"
This sentiment was echoed throughout the week: equity is not meant to be a word thrown around in conversation, or discussed over coffee — equity calls for action, collaboration, advocacy, reflection, vulnerability and listening.
As part of its commitment to include a robust representation of diverse voices, BBSP provided 25 scholarships to offset registration costs and provide travel support.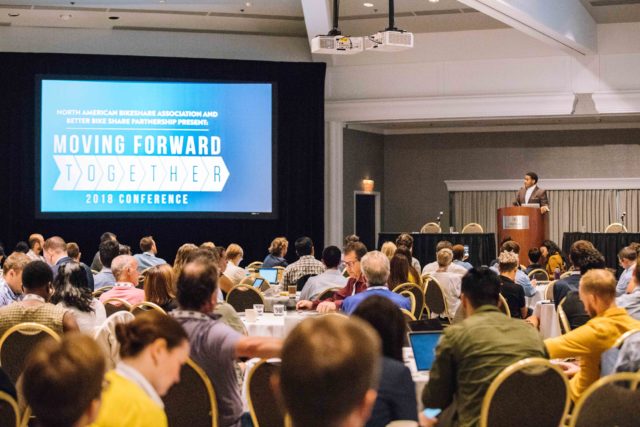 Keith Benjamin address the audience during his opening keynote.
Source: Portland Bureau of Transportation.
Keith Benjamin, director of the Department of Traffic and Transportation for the City of Charleston, officially kicked off the conference as the opening keynote speaker. He discussed how he's brought equity to his own office — including signing government contracts with women- and minority-owned businesses — and the steps required to make the transportation space more equitable.
"Changing the system requires the acknowledgement of a history that was purposeful in its promotion of inequity," Benjamin said in his address. He also pointed out that being serious about change requires more than signing petitions and giving money; that meaningful change requires equity being a part of strategic planning and often means changing hiring practices and approaches to partnerships. "Who is missing from your designation: 'For all'?"
Courtney Williams, chief strategist at The Brown Bike Girl, moderated a panel on racial profiling in bikeshare, where Río Oxas (People for Mobility Justice) shared how Latinx day laborers who ride bikes in Los Angeles are targeted by police as a potential opportunity to challenge immigration status. Panelist Anthony Rosado, Jr. (Citi Bike) displayed an information sheet given to riders in a New York youth equity class, outlining steps for riders to take when they are stopped by police to prove membership; the resource was developed in response to the high frequency of young people of color being stopped by police assuming that the bikes they were riding had been stolen.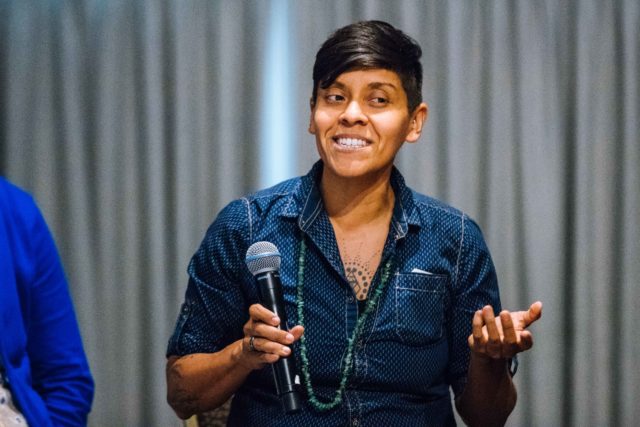 Río Oxas speaks on the plenary panel.
Source: Portland Bureau of Transportation.
Panelists throughout the week brought to light the numerous groups marginalized by bikeshare systems. Riders face limited access based on their age, mobility status, immigration status, the color of their skin, their income level, where they live in a city, how they bank and whether they have access to a smartphone. While there is much work to be done to move toward transportation systems that are truly equitable, speakers encouraged conference attendees to reflect on how they could be taking action now: in their workforce, their partnerships, in workplace policies, strategic planning and in any other facet of their personal and professional lives where equity has been overlooked.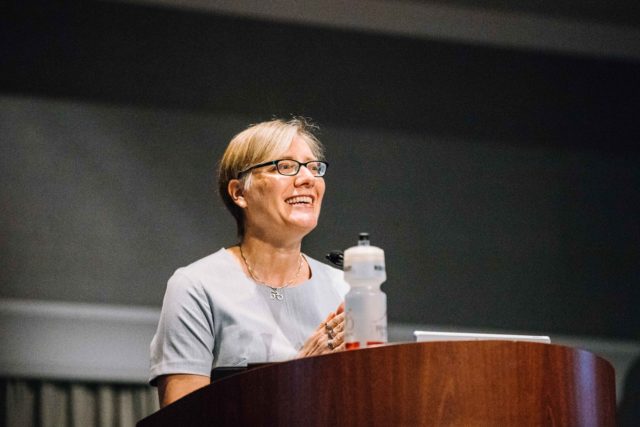 Barb Chamberlain delivers her closing keynote.
Source: Portland Bureau of Transportation.
In her closing keynote address, Barb Chamberlain, director of the Division of Active Transportation at the Washington State Department of Transportation, challenged attendees to examine their role in bringing equity to bikeshare. "What is your story about what you did for equity? You're writing that story right now."