Memphis bike share system is off to a powerful start
August 17, 2018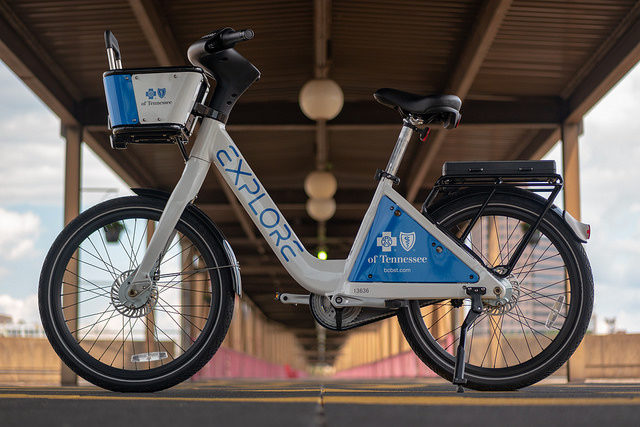 Source: Paul Wasneski via Flickr.
After years of planning, Explore Bike Share of Memphis is up and running, and already making a difference to community members.
The system launched on May 23rd of this year to a crowd of more than 250 people in the heart of downtown. Those who came to celebrate represented all walks of life, from race to age and socioeconomic background.
As of the beginning of July, there were already 9,000 individual bike rides taken by more than 4,000 people. "That means lots of folks are taking more than one trip, which is quite encouraging," said Sara Studdard, Community Engagement and Marketing Director for Explore Bike Share.
Reaching neighborhood riders
Highest system usage was seen in Downtown and Midtown, but the lower density communities of South Memphis and Orange Mound have also been experiencing strong numbers. Both neighborhoods consist predominantly of residents of color. Encouragingly, Studdard said riders in these areas seem to be reflective of the actual local demographics.
Key to connecting these riders with bikes is partnering with local organizations. Explore Bike Share funded four nonprofits to work directly on that connection: Knowledge Quest, The Collective, JUICE Orange Mound, and Carpenter Art Garden. They have also worked with Revolutions bike co-op.
Each organization has its own history working with Memphis community members and deep relationships to draw on, whether it provides financial literacy tools, after school programs, or another service. "We hope [bike share] connects neighborhoods, but also feels of the neighborhood," said Studdard.
Equitable access measures
Equitable principles were the foundation of Explore Bike Share from the beginning. In addition to making sure bikes are available in South Memphis and Orange Mound, Explore offers a $5 per month affordable membership which community partners distribute through promo codes. The system is working directly with the nonprofits to determine what price points make the most sense overall.
Explore Bike Share also offers a cash payment option. And the system is examining how to do its marketing in a way that includes diverse representation without being forced or inauthentic. "We're excited to see what our community partners do from a programming and ridership point of view. They've all created their own programming plans and will run with it," said Studdard.
Explore and partners are working to gather concrete baseline data on ridership, including race and income statistics, through surveys.
"Keep your eyes on Memphis," she said. Indeed, this Southern mid-sized city has lots of plans and a right to be proud of all its work so far.
The Better Bike Share Partnership is funded by The JPB Foundation as a collaborative between the City of Philadelphia, the Bicycle Coalition of Greater Philadelphia, the National Association of City Transportation Officials (NACTO) and the PeopleForBikes Foundation to build equitable and replicable bike share systems. Follow us on Facebook, Twitter and Instagram or sign up for our weekly newsletter.