UK explores bike share access through pilot program
June 28, 2018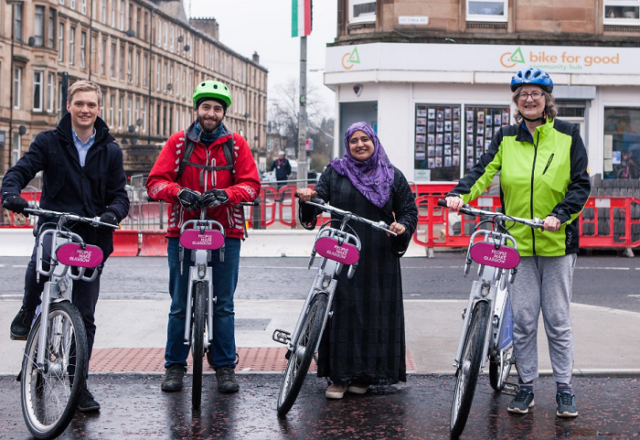 Image courtesy of CoMoUK.
At Better Bike Share we don't often take a step back to look at the international bike sharing context, but today we're talking about a project from the United Kingdom.
Chris Slade, Project Manager for CoMoUK, and his colleagues were inspired by what they learned at convenings by the North American Bikeshare Association and BBSP to start their own bike share outreach programming in the UK.
The program launched with a small pilot in summer of 2017, starting with 100 memberships and has now expanded citywide, moving up to 300 in 2018. Bikes for All Glasgow is working in partnership with other organizations, including Glasgow Centre for Population Health, local cycling charity Bike For Good, nextbike UK, and Cycling Scotland. The partnership worked to offer an outreach program in diverse neighborhoods, according to both ethnicity and income.
Introducing local residents to cycling
From the beginning, staff knew that they wanted to open up the bike share opportunities to a wider range of society than the usual suspects.
"What we're offering people is an introduction to cycling," said Slade. "One of the areas we're working with in Glasgow is the most ethnically diverse in Scotland. There are some language barriers where English isn't the first language and people may be new to the UK."
One of the most important ways to get cyclists of all backgrounds on the bikes is to take down as many access barriers as possible.
"Especially where people might not have smartphones or credit cards, we're trying to break down barriers with cash payment and free phone numbers," said Slade. "We have a £3 annual membership as part of the scheme. We provided half-an-hour free and have extended it to an hour. Riders experience anxiety when they don't know how much they are going to be charged, or if there will be hidden costs."
According to Slade, one key difference between the UK and US contexts is that in the UK it is more common to see people of various income levels living in the same neighborhood, which can make it challenging to target bike sharing services to those who might need them most. To help reach more people, staff are working with community organizations such as the Red Cross, a refugee charity and women's groups.
Rolling on forward
One of the goals for the program is to build strong case studies that can help show the importance of the work and support bike share projects at a national level.
Internal assessment of the pilot program suggested that the membership being as accessible and affordable as possible is an important priority for low-income riders. Additionally, having staff on hand to help riders with the sign-up process and with riding for the first time were key features.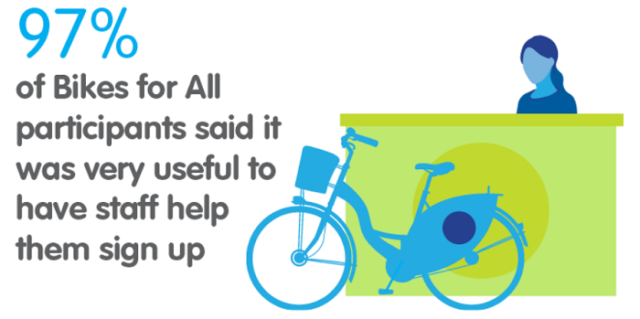 Image courtesy of CoMoUK.
Staff also found that bike share helps push individuals to think about cycling in the first place, and to see it as a fun and healthy activity. Protected cycling lanes in the underserved Govanhill neighborhood are being built to provide better access to the city center and to show that cycling is to become an intrinsic part of the area.
Just as in the US, questions of identity and community ownership are key to bike share outreach.
"We're interested in exploring identity and the questions of 'is cycling for me?'" said Slade. "We're trying to change perspective so that everyone sees the bike share scheme is for you. That includes promotional material related to people we're trying to work with. For instance, we've been focused on getting more women to cycle through women only rides and confidence boosting cycle training."
Despite such challenges, it's clear that Bikes for All Glasgow is off to an explosive beginning in its community engagement work.


Image courtesy of CoMoUK.
Find out more about the Bikes for All program here.
The Better Bike Share Partnership is funded by The JPB Foundation as a collaborative between the City of Philadelphia, the Bicycle Coalition of Greater Philadelphia, the National Association of City Transportation Officials (NACTO) and the PeopleForBikes Foundation to build equitable and replicable bike share systems. Follow us on Facebook, Twitter and Instagram or sign up for our weekly newsletter.