Better Bike Share Partnership receives two more years of funding
August 17, 2017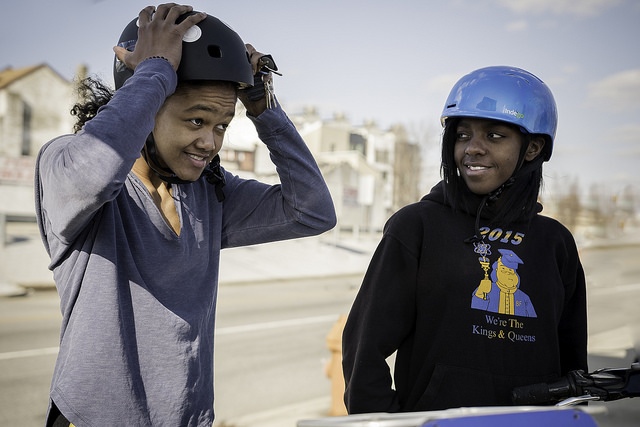 Source: Darren Burton.
The Better Bike Share Partnership is excited to announce new funding from The JPB Foundation to continue our work in bike share equity.
The funding will extend BBSP's initiatives by two years. In this second phase, BBSP will work to further engage underserved communities and to increase access to bike share for all. BBSP will also continue to be a national voice on equitable bike sharing. The partnership originally began in 2014 with a grant from The JPB Foundation.
"The JPB Foundation's support has been absolutely critical to our successes at making Philadelphia's Indego bike share the most equitable system in the country," said Mike Carroll, deputy managing director at the City of Philadelphia. "This underscores Mayor Kenney's commitment to creating growth with equity in Philadelphia. We're thrilled for continued funding for the Better Bike Share Partnership which has brought together a dynamic set of local partners including the Bicycle Coalition and the Indego staff, along with prestigious national partners such as PeopleForBikes and NACTO [National Association of City Transportation Officials]."
BBSP's work has already had a positive impact when it comes to transforming bike share systems on the ground:
"We are inspired by all that BBSP has accomplished and learned over the past three years," said Sarah Clark Stuart, executive director of the Bicycle Coalition of Greater Philadelphia. "Our team will continue to engage new riders, test innovative education models, and share their experiences across the country. This work supports the Bicycle Coalition's core belief that people from all racial and economic backgrounds should have access to safe, healthy, and affordable transportation options in their communities."
BBSP has also worked to highlight new research and to produce resources related to bike share:
"NACTO is thrilled to be part of BBSP as we work to make bike share a real transportation option for everyone, regardless of race and income," said Linda Bailey, executive director of NACTO. "Through our work with the BBSP partners, our member cities are gaining critical insights into best practices, as we work to foster leaders, test programming, and develop research in this area."
BBSP hopes to leave a lasting footprint on bicycle infrastructure and bicycle accessibility for riders everywhere.
"The Better Bike Share Partnership supports the development of bike share systems that can be easily used by everyone," said PeopleForBikes president Tim Blumenthal. "These systems make our cities better. We deeply appreciate the continuing investment of the JPB Foundation in this project and we look forward to working with our partners during the next two years."
The Better Bike Share Partnership is funded by The JPB Foundation as a collaborative between the City of Philadelphia, the Bicycle Coalition of Greater Philadelphia, the National Association of City Transportation Officials (NACTO) and the PeopleForBikes Foundation to build equitable and replicable bike share systems. Follow us on Facebook, Twitter and Instagram or sign up for our weekly newsletter. Story tip? Write stefani@betterbikeshare.org.
Save