Why I ride Relay bike share
July 27, 2017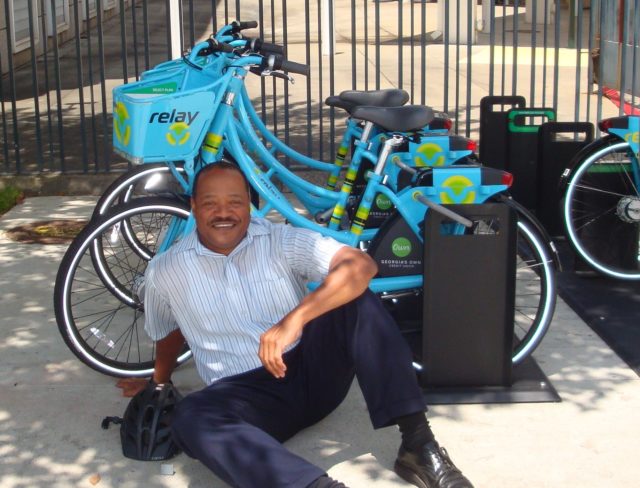 Source: Steven Cousins.
Steven Cousins is a 19-year bicycle commuter to the Coca-Cola Headquarters (in midtown Atlanta). Since starting that bicycle commute, he has ridden more than 50,000 miles on a bicycle.
I currently own five bicycles, and on many days I commute to work using one of them. Yet over the past year, the bicycle that I rode the most is not a bicycle that I own. It is a bicycle that I share.
In June 2017, Relay bike share in Atlanta completed its first year of operation. I signed up for a Relay bike share membership on the first day, moments after it went live. Over the first year, I checked out and used a Relay bicycle 212 times. Why did I ride a bike share bicycle so much?
It's convenient
Although I frequently ride one of my own bikes, once I get to work the Relay bike share bicycle is more convenient to get to and use. During the business day, I need to travel between worksites, and I also occasionally go out for lunch.
My personal commuter bike is locked up in a secure area, and is therefore much further from the roadway than an adjacent and accessible Relay station. I can check out a Relay bike in less time and with less process. The Relay bike share bicycle is also more accessible than a motor vehicle parked at some high-level garage floor deep inside a parking deck.
It's faster and cheaper
There are a variety of ways to get around Atlanta — MARTA public transit, Lyft, Uber or even a personal car. My work location also offers a shuttle bus that runs between worksites. But for short trips in town, using a Relay bicycle to run an errand, or get to another worksite is quicker than any of the other transportation options — even on those days when I have my personal car available.
When you factor in the time it takes to get out of a parking deck, to look for parking on the other end, and to pay for parking, there's no advantage over the bike share bicycle. There is never any wait with the bike share bicycle.
Additionally, my monthly Relay bike share plan makes bicycle use cheaper than taking MARTA or any of the rideshare services. I've completed a total of 212 trips over the year that Relay bike share has been in operation. At my average membership price of $6.67 per month, my average per trip cost is just $0.38.
It's less hassle
My commuter bicycle has a rear rack with pannier bags. But for short trips it is simple and convenient to just put my things into the bike share bicycle basket, which is large enough for carrying all accoutrements.
I can grab anything from the basket while I am riding; no need to stop and fumble with a bag behind me. Plus, the Relay bike share bicycle is clothing neutral. Since I often ride in business attire, I have to strap my trouser leg, or even change my shoes, with a personal bike. With the Relay bikes, there is no concern over chain catch, chain rub, or uncomfortable pedals.
There's no worry of tire flats or maintenance
The bike share bicycle is rugged and well kept. In contrast, I must always ensure that my personal bikes are fit for riding. If something goes wrong with one of my personal bicycles, I have to do the repair, whether that be something small (like making adjustments, replacing bar tape, etc.), or something major (i.e., breaking a chain, replacing a chainring or cogset).
With my personal bikes there have been occasions where there is a sudden need for maintenance that arises during a ride (flat repair, broken spoke, etc.) But I never have to worry about such things with the bike share bicycle. Somebody else is making sure that the bike is fit for use. And the tires are puncture-resistant. I've never had an operational or maintenance problem riding bike share.
They are good bikes for rain
I don't worry about getting caught in the rain with the Relay bike share bicycle. There are fenders and splash guards (which I don't have on all of my personal bikes), and I never have to bother with cleaning or lubricating the Relay bikes. When I am caught in the rain with one of my own bikes, I have to wash and lubricate it before reuse. I don't care about how muddy the Relay bike gets, because someone else is responsible for keeping it clean and functional.
It makes a difference for the cycling community
I want cycling conditions to improve in the city. I want more biking infrastructure. And I want more bicyclists on the roads. I believe that bike share not only helps to make this happen, but accelerates it. Bike share is a catalyst to speed progress toward cycling infrastructure.
In cities where bike share is introduced, improved and even aggressive transformation to bicycle infrastructure follows, because bike share enables the politicians and the public to recognize the scale of the opportunity. According to the League of American Bicyclists, bike share programs ideally create more political support for bicycling investments.
People on the streets or in cars don't talk to me or acknowledge me as much when I am riding one of my personal bikes. But when I am on a Relay bike share bicycle, more people talk to me. They ask questions, such as, "What's going on with those bicycles?" or "How can I use one of those bikes?" or "How easy is that bike to ride?" People consider the possibility of riding a bicycle when they see others in the general public using a bike share bicycle.
Being seen on a Relay bicycle presents the example that the bicycle is a legitimate mode of transportation, and it can be used by anyone. Being seen on a bike share bicycle is an outward show of who the Relay system is for (which is everyone). And bike share produces the visibility and demand to spur political leaders to create safer, more comfortable streets for all cyclists. Bike share legitimizes your town as a Bicycle Friendly City.
As someone who cares about the quality of bicycle riding in the city, I believe that each time I check out a Relay bike share bicycle and take it to my next destination, I am contributing a little bit more to making the city more bike friendly.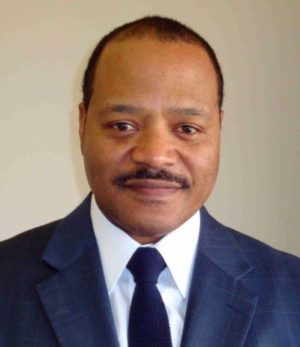 Source: Steven Cousins.
Steven is a League of American Bicyclists Certified Instructor (LCI) and an advocate for more cycling infrastructure and better egress for pedestrians. He is a Board Member of the Atlanta Bicycle Coalition, and a member of Georgia Bikes!, the state advocacy organization. His desire is for complete streets, bike share systems, cycling equity, vision zero, and vulnerable road user laws.
The Better Bike Share Partnership is a JPB Foundation-funded collaboration between the City of Philadelphia, the Bicycle Coalition of Greater Philadelphia, the National Association of City Transportation Officials (NACTO) and the PeopleForBikes Foundation to build equitable and replicable bike share systems. Follow us on Facebook, Twitter and Instagram or sign up for our weekly newsletter. Story tip? Write stefani@betterbikeshare.org.
Save