Are 'rogue' bike share systems a threat to equity?
June 19, 2017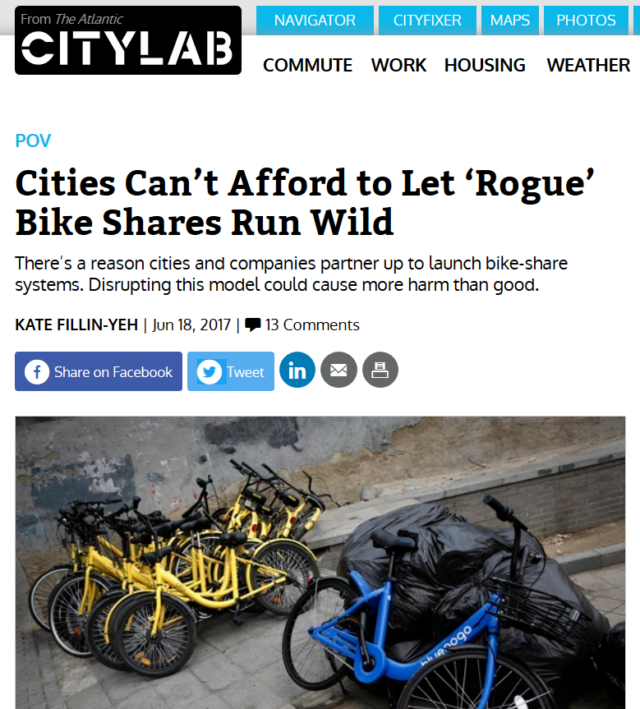 A new op-ed from bike share expert Kate Fillin-Yeh says that a private model for systems could damage their ability to reach a true diversity of users.
Fillin-Yeh is the director of strategy at the National Association of City Transportation Officials (NACTO). Her article appeared in CityLab, critiquing the so-called "rogue" bike share systems that are popping up in Austin, San Francisco, and other West Coast cities.
She says that while such systems might seem cheaper at the outset, the $1 per ride cost can actually add up quickly for a daily two-way commute. Fillin-Yeh also expresses concern that there may be no discounts for low-income riders, in the same manner as systems that partner with city governments. (See Philadelphia's $5 monthly memberships for benefit card holders, for example.)
Through the article, Fillin-Yeh raises important questions about how sustainable the operating model is for these companies, whether their bikes will become overly concentrated in central business districts, and if workers will be paid a living wage.
>Read the full article on CityLab.
The Better Bike Share Partnership is a JPB Foundation-funded collaboration between the City of Philadelphia, the Bicycle Coalition of Greater Philadelphia, the National Association of City Transportation Officials (NACTO) and the PeopleForBikes Foundation to build equitable and replicable bike share systems. Follow us on Facebook, Twitter and Instagram or sign up for our weekly newsletter. Story tip? Write stefani@peopleforbikes.org.
Save