How bike share can be a winter community engagement tool
December 7, 2016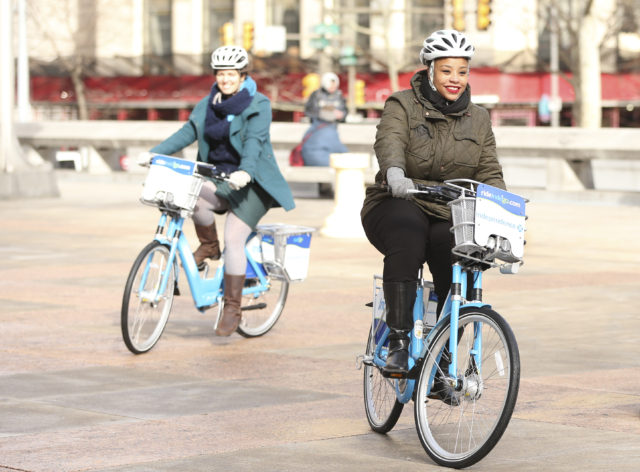 Indego launch event in April 2015. Image courtesy of Mitchell Leff.
Cold weather can sometimes dampen enthusiasm for bike share, but with clear outreach and marketing strategies it's possible to keep all communities engaged through the winter and beyond.
Wintertime brings out a different set of challenges than the rest of the year when it comes to community engagement. People start to be preoccupied with the holidays, and they not be as interested in getting around by bike when the weather is uncomfortably cold. Here's how a couple of cities handle the winter months and their aftermath.
Developing relationships with partners
In Philadelphia, partnership is the word of the day throughout winter. During cold months, the City of Philadelphia, the Bicycle Coalition of Greater Philadelphia, and the Indego bike share system partner with existing organizations who already run strong holiday programming in various communities.
Through these partnerships, Indego participates in local holiday drives that collect coats, hats, and scarves for donation. Incorporating the Indego bikes into existing events helps keep the bikes in the public eye and remind people that they are a good means of transportation even in the cold.
Philadelphia also has a mini-grant program to support smaller groups who want to do winter activities and drives, including the participants of the Indego ambassadors program, who are from historically marginalized West Philadelphia.
"A couple of the ambassadors with their own nonprofits reached out about doing holiday drives," says Waffiyyah Murray, Education Program Manager for the Bicycle Coalition. Murray's organization also continues to provide bike safety classes throughout the winter and is available to run learn to ride classes as well.
Another important winter engagement opportunity in Philadelphia is the Martin Luther King Jr. Day of Service. Philadelphia's Day of Service is the largest King Day event in the nation, and Carniesha Kwashie, Grant Manager for the Better Bike Share Partnership, explains why it's important to bring the Indego bike share into the activities.
"We'll be out there," says Kwashie. "This is how you build relationships and trust with community partners and with those who we want to serve. You have to understand what their day to day needs and wants are."
Kwashie shares how the Day of Service has been a strong opportunity for partnership with PowercorpsPHL and other local organizations, who continue to work together throughout the year.
In giving advice on how to do winter engagement, Kwashie says, "Identify events and people who stand for what you stand for. Find those who stand for making events accessible to all."
Getting creative in the cold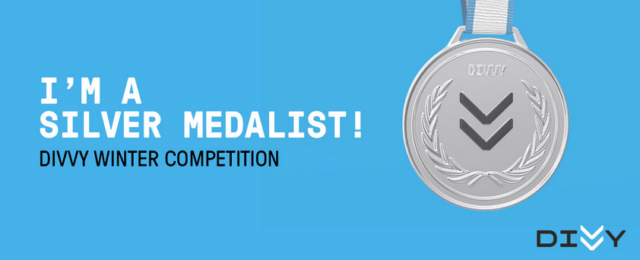 Image courtesy of Divvy.
In addition to engaging with local partners, winter is an opportunity to get creative in marketing activities.
Amanda Woodall, Program Director at the Chicago Department of Transportation, explains how they keep riders excited about Divvy bike share trips year round.
"Each year at the holidays we wrap a bike to look like a big reflective candy cane and release it into the wild," says Woodall. She explains that riders are encouraged to take pictures of the special bike. They can use the tag #Holidivvy on social media to have a chance to win one of five annual memberships, valued at $99 each.
Chicago also encourages winter riding by letting Divvy members know in February or March how many trips they took in the past season. Those with the most trips get a virtual Gold trophy, while others can receive Silver or Bronze. The trophies encourage light rivalry as friends compete to see who is the "toughest" winter rider.
Given that Chicago can get pretty cold in the wintertime, Divvy also emails out rider tips on how to stay warm and safe. For instance, Divvy recommends wearing bright colors to ensure visibility during active snow, as well as keeping hands and feet warm with thick gloves and socks.
Here's one South Side Chicago resident who takes advantage of Divvy throughout multiple seasons:
Harnessing the energy of spring
In Minneapolis, the Nice Ride bike share system shuts down from November to April. But staff are continuously planning marketing and community engagement.
At the beginning of winter, Nice Ride hosts a Ride-In event, where volunteers collect Nice Ride bikes from all the stations and bring them to a central collection location. Nice Ride partners with Metro and Car2Go, so that participants can get a free ride out to where the bikes are. In the most recent Ride-In event, participants who collected at least two bikes were eligible for a free beer.
Just as important as the close of the system is the process of bringing the bikes back out in the spring. "The re-emergence of our bikes has  become a sign of spring here," says Tami Traeger, Director of Outreach and Sponsor Relationships at Nice Ride.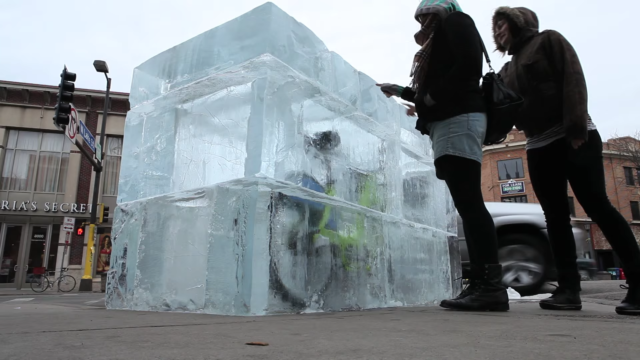 Image courtesy of Nice Ride Minnesota.

Nice Ride isn't afraid to make a big event out of the relaunch. One spring, the company encased a couple of Nice Ride bikes in giant blocks of ice. They then left the bikes in public places and let them slowly thaw. The stunt drove attention for the bikes and reminded people to give them a try as the weather improved.
So, while the strategies vary among cities, it's clear that winter doesn't need to signal the end of bike share community engagement. With a little creativity and foresight, it's possible to keep certain activities and planning going year round.
The Better Bike Share Partnership is a JPB Foundation-funded collaboration between the City of Philadelphia, the Bicycle Coalition of Greater Philadelphia, the National Association of City Transportation Officials (NACTO) and the PeopleForBikes Foundation to build equitable and replicable bike share systems. Follow us on Facebook, Twitter and Instagram or sign up for our weekly newsletter. Story tip? Write stefani@peopleforbikes.org.