Podcast explores role of personal relationships in bike share expansion
October 19, 2016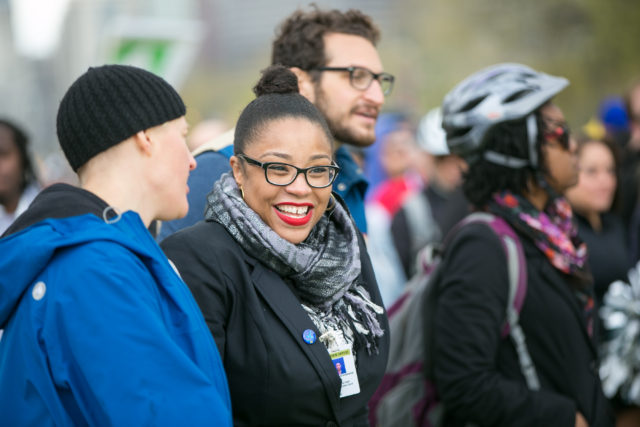 Carniesha Kwashie at Indego bike share launch in Philadelphia.
Few Americans can navigate the topic of bike share equity as effectively as Carniesha Kwashie. In a new podcast, she lays out some of what she's learned.
Kwashie, the grant manager of the Better Bike Share Partnership, is featured on a recent episode of Slate's Placemakers podcast. She highlights her team's work to improve access to Indego, Philadelphia's bike share system, in low-income communities and communities of color, though her impact extends far beyond one city.
Kwashie enters the podcast by noting how much attention she gets for being a black woman navigating Philadelphia on a flashy bike share bike. She's seen as unique, but she doesn't think that's the way it has to be. "This is a majority black city," Kwashie says. "I should see people who look like me."
Image aside, there are many benefits of biking that all people should have access to. "Not only is biking healthier and quicker, but it's far cheaper than getting around in a car," Kwashie relates.
Despite those benefits of biking, bike share across the country isn't all that diverse. Users of bike share are disproportionately young, white, and affluent. Kwashie wanted to change that through her work with the Better Bike Share Partnership.
She quickly learned that person-to-person contact was the main conduit to success when it comes to diversifying bike share users. "I don't care what project you're working on," Kwashie says. "Relationships are key. They are everything." Her team used a combination of hiring people of color, giving out free memberships, and incentivizing community ambassadors to lead bike share rides in target neighborhoods.
Kwashie found that in addition to cultivating relationships themselves, it is critical to meet people where they are.
"I don't go in talking about you're going to love this new fantastic public transportation option, because I'm here telling you about it. I go in very humble. I go in and let them lead me and tell me where the conversation is going to go. Because I'm on their turf," she acknowledges.
Her team has helped reduce barriers to accessing Indego's system by making it possible to pay for a membership with cash, rather than credit or debit card, which many individuals in low-income communities don't have access to. This aspect, combined with their outreach efforts meant that a full 21 percent of users were low income a month after the Indego launch.
While Kwashie's work with the Better Bike Share Partnership has lead to clear successes, there are still improvements to be made. In Philadelphia, the bike share docks in low-income communities are the least trafficked, as bikers in poor communities still have to battle stigma. (Common practice is that those who can afford a car don't bike.)
And while the Indego membership is only $5 a month for those on public benefits, many others in the community who are not on government assistance may still feel that the price of bike share is too high to be accessible to them.
In the end, it's important to remember that Philadelphia's goal isn't just increasing revenue, but making sure that bike share is an accessible resource to all members of the community. The city's work contains key lessons that might be applicable to the wide variety of bike share communities across the U.S. and beyond.
The Better Bike Share Partnership is a JPB Foundation-funded collaboration between the City of Philadelphia, the Bicycle Coalition of Greater Philadelphia, the National Association of City Transportation Officials (NACTO) and the PeopleForBikes Foundation to build equitable and replicable bike share systems. Follow us on Facebook, Twitter and Instagram or sign up for our weekly newsletter. Story tip? Write stefani@peopleforbikes.org.
Save
Save
Save
Save
Save
Save
Save
Save
Save
Save