Active transportation, intersectionality and the importance of listening
June 7, 2016
My earliest memories are of my mother waking up well before dawn to get ready for work. I'd sleepily watch her scurry around our room (we shared a room and bed when I was young). After I'd been served breakfast, she'd kiss me on the forehead and say, "Adios, mija! Portate bien!" That's Spanish for "Goodbye, daughter! Behave well!" And then she was off.
In those early years, mom worked long hours and held several jobs. She cleaned people's houses, worked at a blue jean factory and I don't even know what else. Her entire existence was about providing for our future. When she was working, I was looked after by my Aunt, my Godmother, my Godmother's eldest daughter or my grandmother. I was well looked after!
We lived between South Cicero and Chicago's South Side then. I didn't play outside as it was the late '70s/early '80s and gang turf wars raged. I was too young to know much about the dangers, but I did know my mom was dead serious about me not playing outside unsupervised. Instead, my godmother's kids and I ran amuck in the apartment.
All that running amuck likely factored into why I had to tag along with my mom as soon as I could, walking and riding the bus, to run errands, go to the grocery store, doctor's appointments and wherever else we needed to do. Of all the places we went, my favorite spot was the local library branch, where while my mother took English classes, I got to take part in story time.
Speaking of story time, you're likely wondering, "What does this story have to do with the Better Bike Share Partnership blog or me?"
It's just a story, an introduction to my lived experience and my framing as an active transportation professional. I wouldn't be writing this if my mother, a young twenty-something immigrant from Honduras, Central America, hadn't had access to affordable public transportation. Each job she took helped her climb another rung on the ladder of opportunity and this shaped my life and thinking. Despite whatever perspective and understanding I have, I can't and don't speak for people from communities I identify with. I do, however, understand the intersectionality of my work and its impact on the everyday lives of people like my mother. And because of this, I listen. I listen to the stories and experiences of others—to their intersectionality—and that informs the planning processes and advocacy work we do together.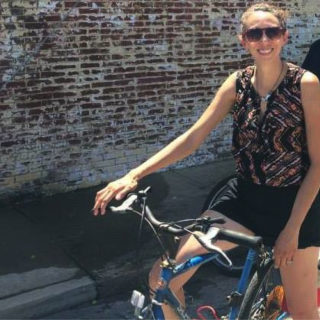 As active transportation planners and advocates, we need to listen. We need to hear the stories people tell about the places they live, and value this information as highly as we do quantitative data. In doing so, we can plan and design with empathy, devising strategic and intentional transportation-based responses via policies, programs, projects and/or campaigns that leverage resources in fair, just and wanted ways to improve the quality-of-life in communities, especially for people in low-income and communities of color, where safe access to and from reliable and affordable public transportation options and housing are needed and relied upon. For more on this subject, have a listen to this webinar and check-out this tipsheet, which features the experiences of some esteemed colleagues working at the intersection of active transportation and social and racial equity.
I know. I know. But how do we turn a practice of listening into action, particularly for socially just and racially equitable outcomes in active transportation? Lots of people are asking this question. And when I am asked, I like to say that we must start at the beginning. And then we must practice, practice, practice.
But what do I mean by practice? I mean that sometimes in our well-intentioned eagerness for solutions, we—planners, advocates, organizations and agencies—get ahead of ourselves. Instead of asking how to do something right away, we must re-train ourselves to ask why do something. And ask it several times again. So, questions, like, why are we motivated to create more socially just and racially equitable communities? Why do barriers to mobility currently exist in various communities and not in others? Why is active transportation and mobility important in this context?
By starting with why, we begin to frame our thinking, values and goals. By asking why, we are training ourselves and each other to be reflective and to listen. Asking how, especially at first, pushes us straight into problem-solving mode without really understanding the issue and the various perspectives and intersectional nature of our work. And this encourages us to fall back on what we already know, so experience-wise and intellectually the things we hold to be true, instead of pushing beyond that understanding to hear other perspectives and be open to other methods and solutions.
Don't worry. What may read as conceptual now will be grounded in concrete examples as part of a series of future blog posts. I'll highlight communities, nonprofits, and agencies including their processes and the "how to" approaches we all look to and examine how they are achieving active transportation-related social justice and racial equity goals.
In the interim, let's all just practice asking ourselves and each other if and why we're interested in working towards social justice and racial equity. Let's practice listening to—and hearing—our responses, our peers' responses and that of the communities we're working with and in. And finally, let's practice sitting with responses and experiences.
—
Naomi Doerner is a nationally recognized active transportation planner and advocate, working at the intersection of social justice and racial equity. She is specialized in growing diverse coalitions, developing authentic community engagement practices, and co-creating policies that support walking, bicycling and transit, particularly in low-income and communities of color. Naomi works with grassroots community groups, nonprofits, public agencies and private firms to advance safe and affordable mobility options for all.
Naomi holds a Master of Urban Planning from New York University's Robert F. Wagner Graduate School of Public Service in New York, NY; a Bachelor of Arts in International Affairs and a Certificate of Geographic Information Systems from Kennesaw State University in Kennesaw, GA. Mrs. Doerner also serves on the Boards of ioby, a crowd-resourcing platform that connects community leaders with funding and support to make neighborhoods safer, greener, more livable and more fun, and PlayBuild, a New Orleans-based nonprofit transforms underutilized lots into playful spaces for children to learn about architecture, planning and design of the built environment. Naomi and her husband, Scott, live in New Orleans, LA.