4 reasons Austin is a city to watch for bike share equity
September 22, 2015
Bike share belongs here. That was the message sent last month at the oldest public housing development in the United States, where low-income residents now have access to its city's popular bike share system.
It happened at Santa Rita Court in Austin. Austin B-Cycle launched a new dock next to the development, as well as two other docks in other neighborhoods where low-income residents live. These stations are just one component of the bike share system's new "B-Cycle For All" program, which targets non-student residents who make $25,000 or less each year. Here are four things the weirdest city in Texas is doing that make it worth watching.
1. Taking a hands-on approach to its subsidized memberships
Austin B-Cycle has invested in outreach personnel that can get hands-on with potential members. They have also taken on the responsibility of determining eligibility for subsidized membership themselves, rather than working through an outside organization like a housing authority.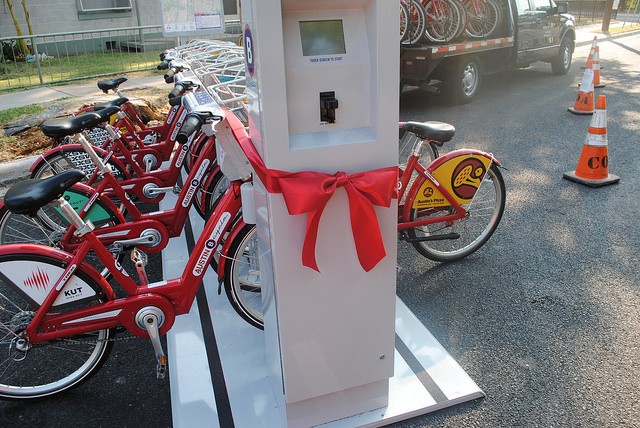 "There is a lot of intimidation when people are not sure how it works," explains Executive Director Elliott McFadden. "They want to make sure they understand how it's priced to make sure they avoid fees. Especially for first-timers, having a person there … really goes a long way."
McFadden says this approach stems from the bike share's own field research and focus groups looking into what stops people from hopping onto a bicycle in the first place.
2. Focusing on downtown employees
One of the intents of bike share is to be a last-mile connector for people heading to work, and one organization that cares a lot about the commuting patterns and frustrations of Austinites is Downtown Alliance. The local organization was a founding sponsor of Austin B-Cycle, and they have shown their financial support again by subsidizing bike share memberships to low-wage earners who work downtown.
"They saw a real ability to help lower-income workers who are working downtown," says McFadden. "A lot of employers are exploring their options, like running their own shuttle busses. There's been an interest in looking at options for lower-income workers, especially focused on the entertainment and hospitality industries. We want to make it easier to go to work, less expensive to go to work.
3. Allowing (some) youth to use bike share
Teenagers weren't supposed to use Austin B-Cycle, but they were anyway. Rather than trying to enforce the existing user agreement or turning a blind eye, Austin B-Cycle decided to embrace reality. They changed the minimum age of their user from 18 down to 13, a decision determined by the physics of their bicycles and the average height and weight of youth. Youth who sign up for a membership will be provided a free helmet, and anyone under 18 is required per local law to wear a helmet while riding.
While not directly related to equity efforts overall, the change could have an impact within the low-income communities located in the service area.
"What we saw was that this is an opportunity for youth to be connecting to after-school programming, or being able to access parts of the neighborhood they are a vital part of," says McFadden.
Furthermore, focus groups have previously identified recreational family rides as a potential selling point for bike sharing. This change makes that a more feasible option for Austin families who don't like breaking rules.
Best yet, these youth users will be eligible for subsidized memberships if their parents are.
4. Embracing the Spanish-speaking population
Austin is a majority-minority city, meaning that no ethnic or racial group makes up more than 50 percent of the population. That means focusing on language diversity isn't just about capturing low-income riders. It is simply good business.
Austin B-Cycle is in the process of translating their website and marketing materials into Spanish, meaning online visitors and potential riders won't have to rely on questionable auto-translators. When paired with specific outreach at community events or organizations, that can be the extra touch that helps make people feel like B-Cycle really is for them.
As part of their equity efforts, Austin B-Cycle plans to release a report detailing the best practices on how to implement a fully bilingual bike share system.
B-Cycle For All is funded through a $50,000 grant from the Better Bike Share Partnership.
The Better Bike Share Partnership is a JPB Foundation-funded collaboration between the City of Philadelphia, the Bicycle Coalition of Greater Philadelphia, the National Association of City Transportation Officials (NACTO) and the PeopleForBikes Foundation to build equitable and replicable bike share systems. Follow us on Facebook, Twitter and Instagram or sign up for our weekly newsletter. Story tip? Write april@peopleforbikes.org