Cash or credit? Philly bike share is among the first to let you choose
May 13, 2015
The option grocery-store clerks have offered for years is coming to the U.S. bike share industry: "Cash or credit?"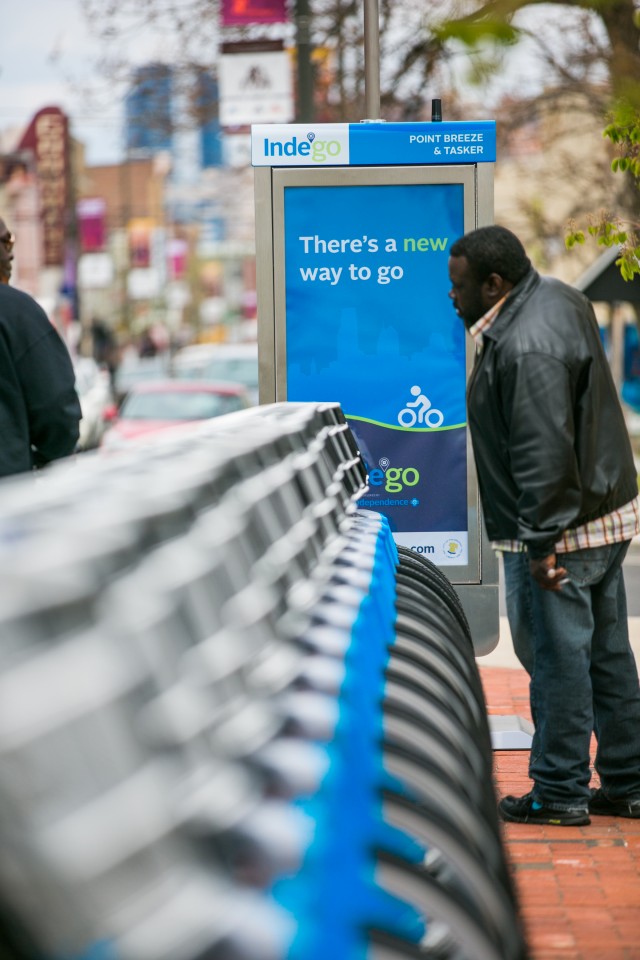 There is encouraging news out of Philadelphia, where the recently launched Indego bike share features the first wide-scale cash-payment option in the country. Of the 2,548 people who have signed up for memberships so far, 78 chose the cash option and successfully made their first payment. That works out to 3 percent.
And those cash members are using the system, too. They have accounted for nearly 800 of the approximately 15,500 trips taken since launch.
Claudia Setubal of Bicycle Transit Systems, the operator of Indego, says the team is pleased with these early findings. "We really didn't know what to expect in terms of numbers," she explains. "With this initial data, we are now working to define our goals for the coming year."
To make this possible, Indego partnered with PayNearMe, a three-year-old Sunnyvale, CA-based startup that first gained national attention by bringing their unique cash-payment system to an established form of mass transit—Greyhound.
Here's how it works for Indego: People sign up for a cash membership online and receive a barcode that they can either print out or loan onto their mobile device. Then, they visit a 7-Eleven or Family Dollar, where the cashier scans the barcode and accepts the cash payment.
There are currently 58 7-Elevens and 38 Family Dollars in Philadelphia. Many are located within the bike share's current service area.
"This gives a lot more people the option of joining," says Caley Heekin, strategic account manager at PayNearMe. "It could really be big for Indego."
According to an FDIC report released last year, 28 percent of Americans have little or no relationship with a bank. Some cities have embraced programs that offer discounted bike share memberships to unbanked people who sign up for an account. But some have criticized these for trying to alter the behavior of potential customers to fit the demands of the bike share operator, as opposed to the company evolving to meet the needs of customers.
Heekin says PayNearMe is a convenient solution because it simplifies the transaction down to a barcode. Customers don't have to recall an account number or memorize a password, and convenience clerks don't have to learn a new process or handle personal information. It also plays to strengths of the community. That same FDIC report found that underbanked households were actually somewhat more likely to have had access to mobile phones and smartphones than fully banked households.
Philadelphia is the first bike share system to launch with a cash-payment system in place. Earlier this year, Bike Arlington launched a one-year pilot program that allows Arlington County residents to pay for their Capital Bikeshare memberships and fees in cash at one of five Commuter Stores.
The initial signup numbers coming out of Philadelphia are obviously not yet definitive because the system is still in its infancy. Still, Setubal finds them encouraging, and she and Heekin both recognize the potential long-term impact on the industry success could have.
"Not many bike shares are really going out on a limb like Philadelphia is with this," says Heekin. "We're excited to see what happens. We're very hopeful."
The Better Bike Share Partnership is a grant-funded collaboration between the City of Philadelphia, the Bicycle Coalition of Greater Philadelphia, the National Association of City Transportation Officials(NACTO) and the PeopleForBikes Foundation to build equitable and replicable bike share systems. Follow us on Facebook, Twitter and Instagram or sign up for our weekly newsletter. Story tip? Writeapril@peopleforbikes.org